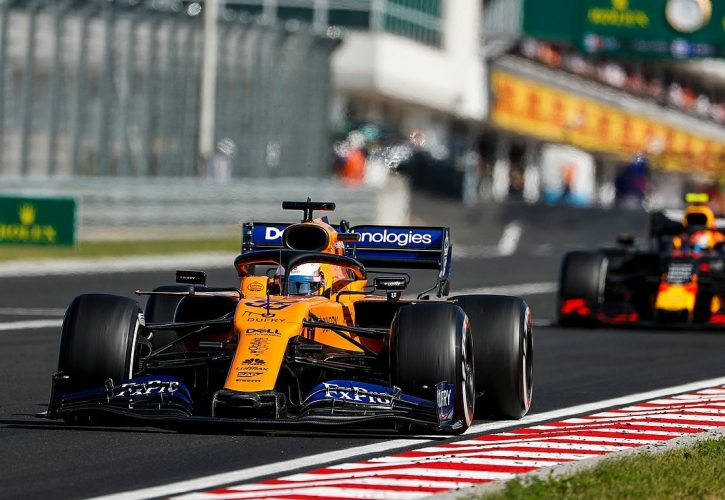 Carlos Sainz earned his second consecutive fifth-place finish in Hungary, and he did it without relying on lucky circumstances or the misfortune of others.
From sixth on the grid, Sainz moved up to fifth after four laps, a position the Spaniard would valiantly hold on to until the checkered flag, thanks in part to an impressive first stint on soft tyres.
While Sainz equaled his result from last week at Hockenheim, the McLaren driver admitted that earning it on merit this time gave the result a different vibe.
"It's a second consecutive P5, which I think I've never done in my life," Sainz said.
"Very very happy with that, especially this P5, it tastes a lot better than the Hockenheim one.
"Very happy to beat in a normal race a Mercedes and a Red Bull, after a good start, after great pace in the first stint.
"I was told the last ten laps of the first stint were quicker than the Ferrari!
"Finishing P5 in a normal race is really good news."
Sainz had to contend with a charge by Red Bull's Pierre Gasly in the closing stages of the race, but the Spaniard focused on keeping his driving as precise and clean as possible.
"He was very close but he never really got a chance," said the 24-year-old.
"I was thinking about it similarly to Ricciardo at Silverstone, just trying to place the car in the right place and don't make any mistakes.
"We didn't give him the chance. Having the pace that we had here also helped of course."
Sainz was delighted to sign off for the summer break on a good result which he felt validated the hard work done by McLaren in the first part of the season.
"I really want to thank and congratulate every single member of the team, here and back at the factory," he added.
"I think these first dozen races show how much progress we've made this season, and we now need to keep digging.
"The ambition is to get closer and closer. Everyone can be proud of how things are going and the consistency we're achieving.
"To keep learning in the second half of the season is important to try to build a better car for next year and take another step.
"Now it's time to recharge the batteries and come back even stronger. Thank you team, enjoy a well-deserved summer break!"
Gallery: The beautiful wives and girlfriends of F1 drivers
Keep up to date with all the F1 news via Facebook and Twitter