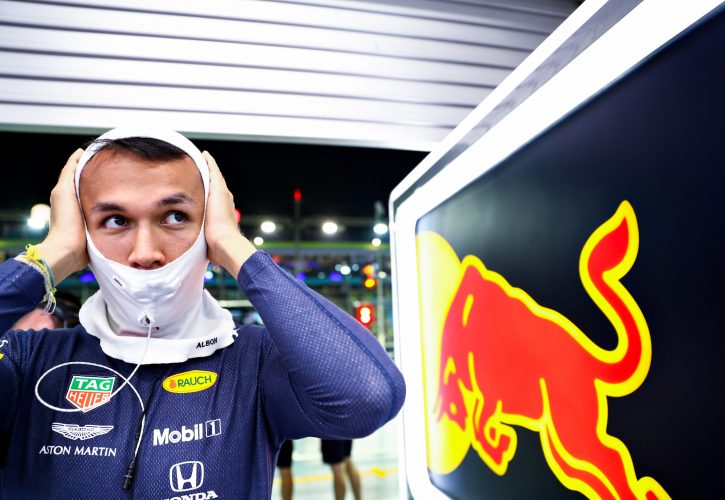 Alex Albon admitted his Singapore Grand Prix wasn't the grueling challenge he expected, but rather a procession during which he was able to find "little tricks" to improve his pace.
The Red Bull rookie was on his first visit to Marina Bay, so made it a point of keeping himself out of trouble in a race that was all about strategy and tyre management
The British-Thai racer, for whom Singapore was akin to a home race, held his own during the 61-lap event, starting his evening in 6th and concluding it in the same position behind his fellow Ferrari and Mercedes rivals and Red Bull teammate Max Verstappen.
"I would call it a battle of management as I started P6 and finished P6," said Albon.
"At times it felt more like a procession than a race for me. It was also a bit frustrating as I spent the whole race stuck behind a Mercedes.
"As I couldn't overtake on the track I hoped that a pit stop would move me up the field but unfortunately that didn't happen and then the Safety Car came out a few times.
"In the middle stint I wanted to get past Valtteri [Bottas] but I didn't have the pace to overtake the Mercedes. I spent the whole race staring at a silver rear wing which wasn't that fun," he added.
"When he pushed I pushed and when he saved his tyres I saved mine so I felt like I was just going backwards and forwards and it almost felt like he backed me up so Lewis [Hamilton] could get ahead."
"All in all, for my first time here it was a positive race. My pace was a lot better so I'm definitely making progress. Even during the race, I was finding little tricks to improve my speed."
Red Bull team boss Christian Horner commended his driver on his maiden performance in Singapore.
"For Alex, it was again a very mature race from him," said Horner.
"He was at the back of the front queue of cars and he just had to be patient.
"He probably didn't have a clear lap all afternoon but he managed the race and his tyres very well. P6 in your first Singapore Grand Prix with the big five finishing ahead is a very solid result."
Gallery: The beautiful wives and girlfriends of F1 drivers
Keep up to date with all the F1 news via Facebook and Twitter