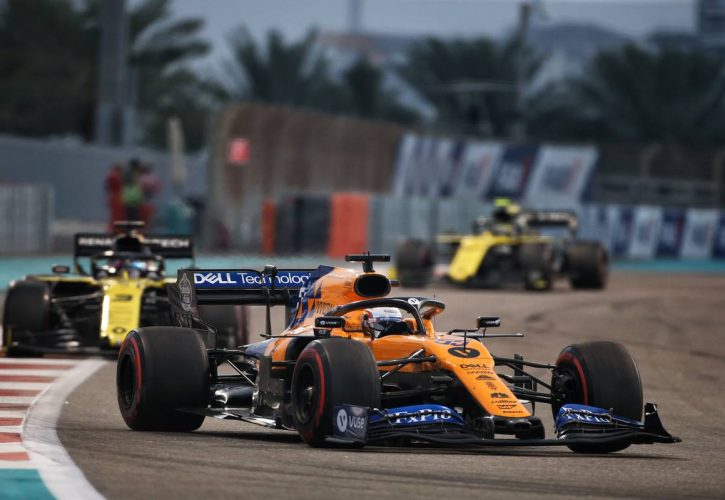 McLaren driver Carlos Sainz secured a crucial top ten finish in the Abu Dhabi Grand Prix, which means he has secured sixth place in the drivers championship by one point from Pierre Gasly.
The result means that Sainz is officially 'best of the rest' in the standings, the first of the drivers from outside the Big Three teams.
"I've known the whole 55 laps, because I wanted that P6 more than anything else," he told Sky Sports F1 after the end of the race.
"Everyone's been talking about this the whole weekend, which obviously puts a bit of pressure. And then it's all down to the last lap, the last overtaking opportunity. It was super exciting!"
The crucial decision was whether or not to make a late second pit stop on lap 41 to switch to a new set of medium tyres in his efforts to pass Renault's Nico Hulkenberg for the crucial single point he need.
Sainz was also acutely aware that drivers including Racing Point's Sergio Perez and Toro Rosso's Daniil Kvyat were on much fresher rubber and almost certain to pass him before the finish unless he changed strategy.
The decision dropped him to 14th place and left him needing to make several passes. The laps running out as he attempted to use the fresh rubber recover the lost positions before the chequered flag.
"I knew the last points finisher was Nico. Both Renaults and the McLarens had started on the softs, and it was obviously a disadvantage.
"We knew before I made the last stop - which was obviously a bit risky - that we were out of the points, because Perez and Kvyat were going to go through us on much fresher tyres.
"We were going to stand still and see them finish in the points. So I said, 'We need to risk it, let's go for the medium tyre'."
"I put the medium tyre on 15 laps from the end and just started catching Nico. On the last lap I just made it," he continued. "I had to do it in turn 11 of the last lap.
"I was catching Nico with DRS, my front right tyre is already a bit gone. He goes for a late defensive move and I say okay, I'm going to prepare this exit well.
"He had a very strong change of direction and very strong traction, me in the dirty air," he noted. "So I open the DRS and say I might have time, and I'm catching catching catching here and at the last moment I change direction and make it stick."
Sainz confirmed that the original idea to make the second stop had been his initial suggestion to the pit wall.
"I proposed it but obviously they made the final call," he stated. "I was seeing the race and in my head it was clear that the medium runners had stayed out for so long that those on fresh hard were going to fly past by us.
"[I had] constant information [from the McLaren pit wall]," he continued.
"I was P9 so I said, that puts us P11 - we're going no where like this," he explained. "I was behind Nico the whole race, and I said, if I pit now and I have 21 seconds to catch back up on mediums, then I can pass him - but on the same tyres I just wasn't going to do it."
Sainz said that the successful outcome to his season validated his decision to move to McLaren at the start of the season.
"I remember last year finishing here in Abu Dhabi on a high with sixth in the race [with Renault]," he realled. "I'm going to McLaren saying, if I get everything together I can do well at McLaren.
"But obviously it was an unknown what was going to happen with me and McLaren, and how the team was going to perform one year later.
"Every sign I saw with the team was positive. I ran testing here and saw a team atmosphere that I had never seen in any team before. This created this big positive feeling going into the winter.
"We prepared massively for the season, and we put together obviously the strongest season of my Formula 1 career, and the strongest season for McLaen to date in the last five or six years.
"It's great news to see that we can do this," he added. "This weekend it was a lot of pressure because we wanted that P6 [in the championship] and we put ourselves under that pressure of going for it - and it worked well!"
Gallery: The beautiful wives and girlfriends of F1 drivers
Keep up to date with all the F1 news via Facebook and Twitter