After a dismal couple of seasons, it looks like Williams has an almost insurmountable task ahead of it if it's to become a major player in Formula 1 again in the future.
Williams recently celebrated 40 years as an independent constructor in the sport. It has been behind seven successful driver championship campaigns, and won nine team titles between 1980 and 1997.
But after finishing fifth in the constructors championship as recently as 2016 and 2017, the last two seasons have seen the team firmly mired at the bottom of the standings and was only to claim a single championship point in 2019.
"We have had two difficult years," deputy team principal Claire Williams admitted to RACER magazine. "But two difficult years doesn't define a team."
She insisted that the team's fortunes would soon begin to bounce back.
"What I've seen in this team this year is an extraordinary level of resilience and tenacity, also a willingness to put in the hard work to turn things around."
"I've always said that work is never going to be the work of a moment," she continued. "It takes time.
"But we have undergone considerable transformation in the team in the past 14 months, and we are seeing the dividends of that work starting to pay off now."
One bright spot for the team has been the performance of rookie driver George Russell. Although he wasn't able to finish in the top ten in his maiden season, Williams still declared that she had "been blown away by George" in 2019.
Russell remains with the team next year, where he will now be partnered by Nicholas Latifi following the departure of Robert Kubica from the driver line-up.
Now it's up to the team to develop and deliver a car over the off-season that will allow them to show what they can do in race trim when F1 resumes in Melbourne in March.
"We have to make sure we give George and Nicholas a car in which they can display their capabilities," Williams acknowledged. "That's what we're all working towards back at the factory."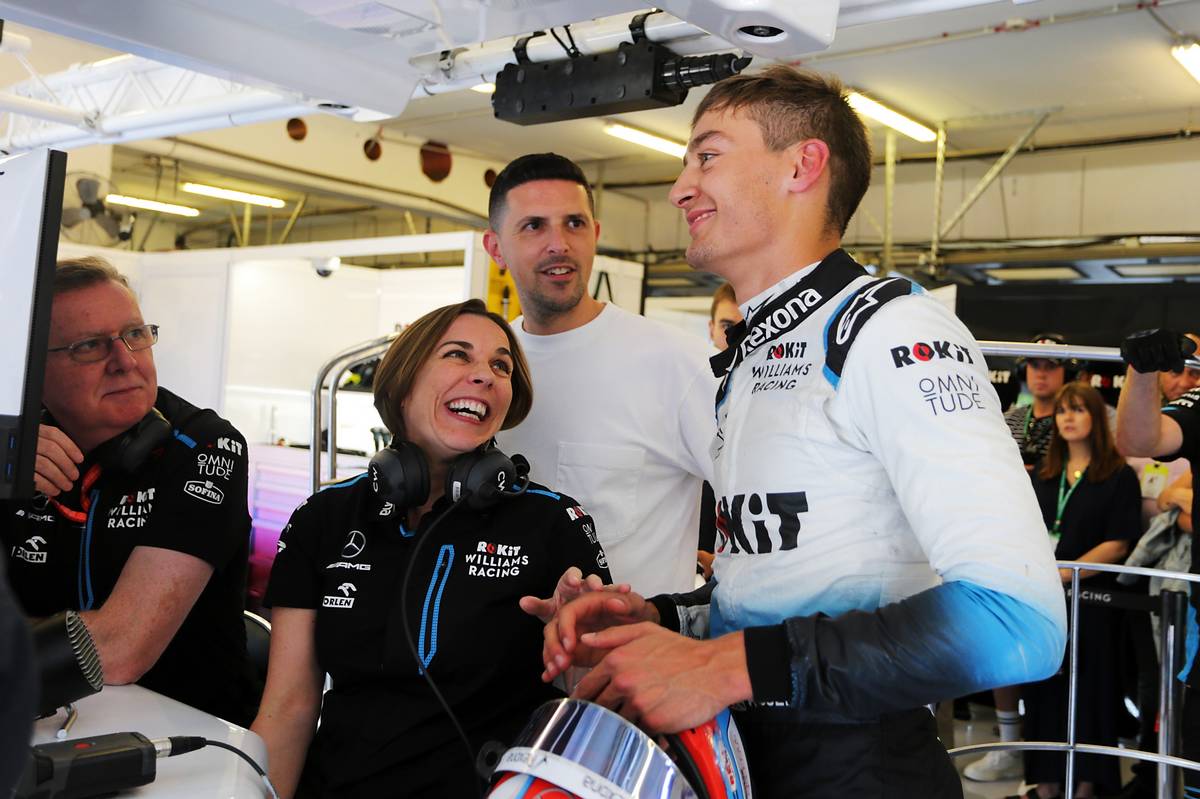 Crucially, the team needs to avoid a repeat of the disastrous situation at the star of this year when the FW42 wasn't ready to take part in the opening days of pre-season testing in Barcelona.
"We have targets for next year, as does every team up and down the paddock," Williams said. We are pleased, and comfortable with those targets, and where we are at the moment.
"But it's always a challenge for any team to meet the targets that it sets," she admitted. "It's a challenge to get the cars ready for testing.
"But we have to get it right next year, and I believe that the FW43 — next year's chassis — will be an improvement upon this year's."
Williams can take some comfort from the revival of another famous British marque. McLaren slumped to ninth place - last-but-one - in the 2017 championship during their disastrous engine partnership with Honda.
But the following year they improved to sixth, and in 2019 they clinched 'best of the rest' status in fourth place behind Mercedes, Ferrari and Red Bull.
A similar renaissance would be sorely welcome to all at Grove. The team hasn't been on the podium since Lance Stroll finished in third place in Baku in 2017, and not won since Pastor Maldonado's unlikely victory in Spain in 2012.
Gallery: The beautiful wives and girlfriends of F1 drivers
Keep up to date with all the F1 news via Facebook and Twitter