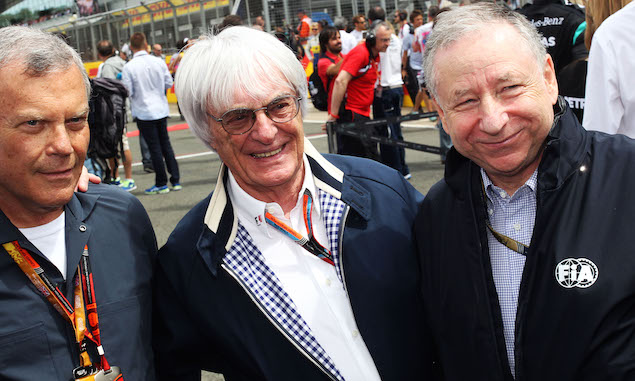 Bernie Ecclestone says he expects new engine regulations to be introduced despite the idea having been voted down at a recent F1 Commission meeting.
After the FIA pushed ahead with plans to allow an independent power unit to be introduced from 2017, a meeting of the F1 Commission ahead of the Abu Dhabi Grand Prix saw the idea put on hold while engine manufacturers work to address four key issues regarding the current power units:
- Guarantee of the supply of Power Units to teams
- The need to lower the cost of Power Units to customer teams
- Simplification of the technical specification of the power units
- Improved noise
With proposals set to be put forward by January 15, Ecclestone believes the solution will still be to introduce new regulations.
"There will be certainly a different engine in the future, or a set of regulations for a new engine, which have more horsepower and be much cheaper is," Ecclestone told Die Welt. "That is clear to me."
However, Ecclestone insists he wants to keep the major manufacturers in F1 and not alienate them with any new engine.
"We want an engine from an independent manufacturer to foster competition and achieve closer power density. When I say 'independent', I mean a manufacturer who is independent of the major automobile groups.
"This does not mean that we want to drive the major manufacturers out of Formula 1, on the contrary. We just want a powerful power unit that is cheaper for each team to buy and use."
The MP4-X: McLaren unveils radical F1 concept car design
Technical analysis - Abu Dhabi
Use the red tabs on either side of the screen to scroll through more Formula One news and features
Click here for a gallery of the McLaren MP4-X
Keep up to date with all the F1 news via Facebook and Twitter