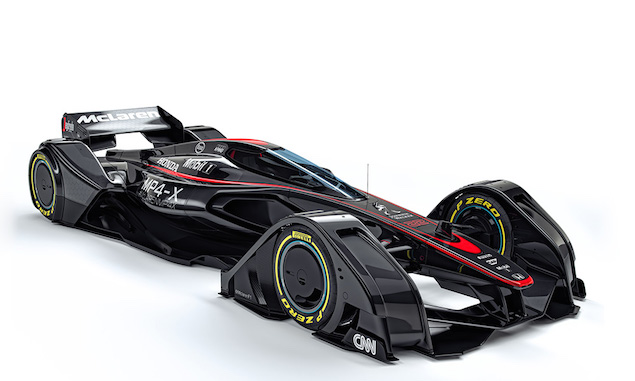 McLaren has become the latest team to unveil a radical F1 concept car, the MP4-X.
Following Ferrari's concept car which was revealed earlier this year, McLaren has also been developing what it believes F1's future could look like. The striking MP4-X features a canopy and features advanced energy recovery, with no internal combustion engine.
Ground effect and active aerodynamics are also a feature of the MP4-X, with McLaren saying the car's bodywork would be electronically controlled to provide downforce in corners and then change shape to reduce drag on the straights. It would also be able to react to local situations such as following another car closely to enhance performance.
"With the futuristic McLaren MP4-X concept racecar, we wanted to peer into the future and imagine the art of the possible," said John Allert, Group Brand Director of the McLaren Technology Group.
"We have combined a number of F1's key ingredients – speed, excitement and performance, with the sport's emerging narratives - such as enclosed cockpits to enhance driver safety, and hybrid power technologies.
"Formula 1 is the ultimate gladiatorial sport, and the future we envisage will be a high tech, high performance showcase that excites fans like no other sport."
Click here to find out more about the MP4-X from McLaren.
Abu Dhabi Grand Prix - Quotes of the weekend
Abu Dhabi Grand Prix - F1i's driver ratings
Use the red tabs on either side of the screen to scroll through more Formula One news and features
Click here for exclusive pictures of the Ferrari power unit
Keep up to date with all the F1 news via Facebook and Twitter