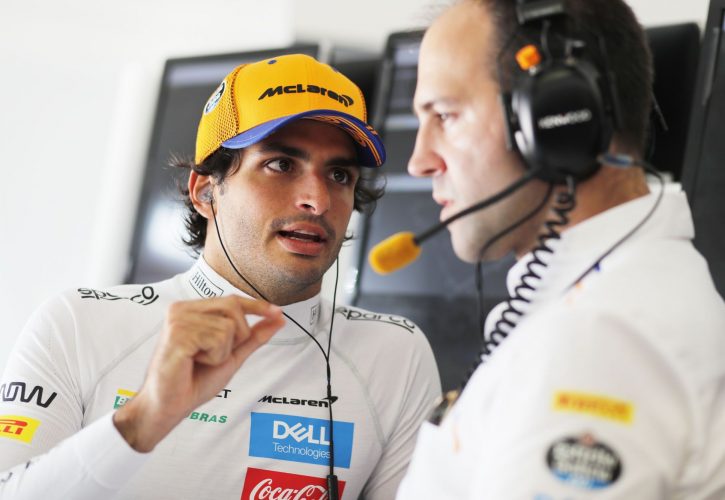 McLaren boss Zak Brown says the Woking-based outfit has offered Carlos Sainz a supportive environment that contrasts with the uncertainty the Spaniard endured at Toro Rosso.
As a product of the Red Bull junior programme, Sainz graduated to F1 in 2015 and raced with Toro for almost three seasons until he was loaned to Renault in the latter part of 2017.
Sainz was released from the Red Bull family at the end of 2018 and transferred to McLaren where the 25-year-old has found a stable foundation on which to build his confidence and strive.
"Carlos has been outstanding. I think he'd been living under one-year contracts in the whole Red Bull-Toro Rosso environment," said Brown, speaking recently at the Autosport International Show.
"Obviously [Red Bull are a] fantastic team, but they can be a bit rough on their drivers.
"I think Carlos is a driver that needs to know he's got a team behind him and the next race might not be his last race, which is a little bit of the environment that is created over there [at Red Bull and Toro Rosso] sometimes."
A positive atmosphere permeated McLaren last year, fueling excitement and energy for the team. But the good vibes have also been helped by the harmonious relationship between Sainz and rookie teammate Lando Norris.
Many were sceptic of Brown's decision to replace Stoffel Vandoorne with the young inexperienced Briton. But Norris was quick to put any concerns to rest.
"I think there was some risk with it, Lando being the youngest British driver," Brown admitted.
"He's had such a stellar career every step of the way. It really clinched it for us when he did his Free Practice 1s - he was extremely impressive.
"Also when he did the 24 Hours of Daytona [in January 2018] with Fernando [Alonso] as his team mate we were able to see how that went and he didn't leave anything behind.
"There was debate as to actually who was quicker! He stepped up to the plate."
Brown remembers the exact moment when Norris swayed McLaren's decision in his favour for 2019.
"The one for me when I went 'Yep, he's ready', was when he did his first Free Practice 1 in Formula 1 [at the 2018 Belgian GP].
"He was as relaxed as when I'd seen him on the grid of a Formula Renault race.
"He wasn't kind of having this moment of 'I'm in Fernando Alonso's car, here I am'. I think the first session maybe had even been wet and, you know, he was cool. And he had the speed right away."
Gallery: The beautiful wives and girlfriends of F1 drivers
Keep up to date with all the F1 news via Facebook and Twitter