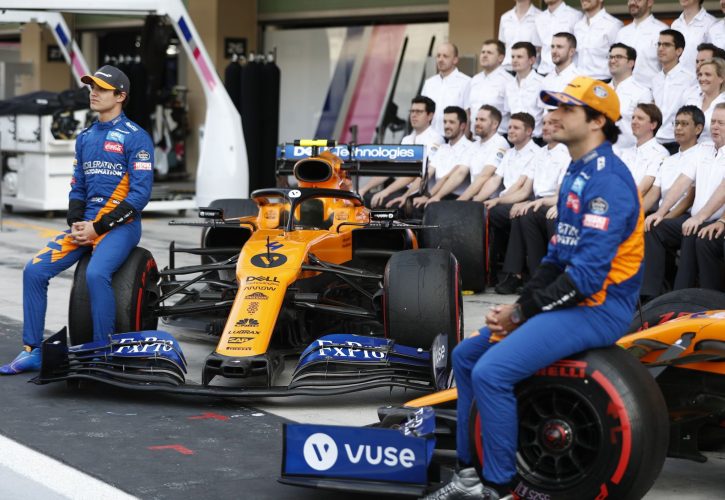 McLaren's Lando Norris says his harmonious relationship with teammate Carlos Sainz provides a beneficial path forward for the Woking-based outfit.
As a rookie last year, Norris set out to learn the ropes of F1 alongside a driver who had five seasons under his belt.
But the working relationship between the 20-year-old and Sainz quickly evolved into a friendly and balanced rapport which has proven mutually beneficial, and a boon for the McLaren.
"Everyone always gives the view that because you're teammates, you're always so much against each other and you're just pure rivals," Norris said, speaking at the recent Autosport International Show.
"I want to say we're both kind of looking at the longer game that if we want to achieve what we want to achieve, which is to win races and win championships, the best thing is to work together.
"We wouldn't have finished P4 in the championship as a team if we didn't work as well together as what we did last year."
They say you can be friendly but its hard to be friends in Formula 1, yet Norris and Sainz enjoy a great complicity on Grand Prix weekends and sometimes even away from the track.
And the by-product of their natural affinity feeds directly into the team.
"A big part of what we have achieved is because of how we worked together, how we helped each other, how we try and help the team," Norris added, quoted by Crash.net.
"Because if we were just against each other, we didn't help each other, we wouldn't have been P4 in the constructors', and quite frankly, we wouldn't be in as good of a position as we are going into this season.
"At the moment, it's only benefitting us in every way. I hope it continues. Like I said at the beginning, I just want to have fun and enjoy it, and he does as well.
"I think that's the first time two drivers have been able to show that, and I think that's why it's been able to come out so well."
Gallery: The beautiful wives and girlfriends of F1 drivers
Keep up to date with all the F1 news via Facebook and Twitter