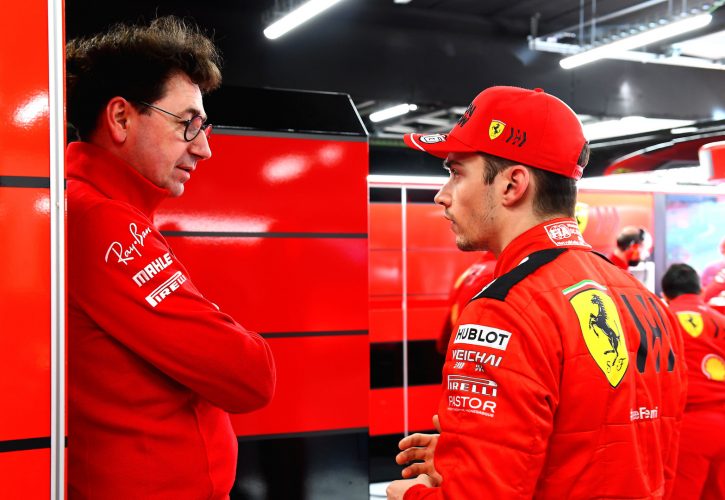 Ferrari boss Mattia Binotto says the Scuderia could rely on team orders this season to manage its drivers, but only in the event of a clear situation that benefits the team.
At the outset last year, Sebastian Vettel was given a theoretical priority over Charles Leclerc. But as the season progressed and the Monegasque staked his claim within the team, Ferrari implemented a 'let them race' policy that led to several flash points between the two drivers, the last of which resulted in a painful self-inflicted double-DNF at the Brazilian Grand Prix.
Binotto has said the Vettel and Leclerc will be on equal footing this year, but if a scenario unfolds in which the Scuderia's interests must be protected, an order shall be barked over the team's radio.
"It is right that they are on the same level to start in 2020 and I think they know as well the team has the first priority so team orders may still be there.
"I am not saying that they are free to race with no team orders, so there might be team orders for the benefit of the entire team. But it has to be a clear situation."
With Leclerc eager to continue his forward march and Vettel seeking to reassert himself relative to his teammate, many believe Ferrari will have an even more difficult task of managing its drivers this year.
But Binotto is relying on last year's lessons and the wisdom they have hopefully instilled to keep his drivers in line.
"I think last year has been very useful for both of them and myself, to know each other and to understand how we should behave and what should be the rules within the team and what is the priority, that the team comes first," he explained.
"I think that the two drivers now know each other better too and they are behaving well. I am very happy at the level of discussions we got and the level of contribution to the car and to the team.
"I think, generally speaking, there is not much to tell them because they understand perfectly what should be the way to behave on track."
Gallery: The beautiful wives and girlfriends of F1 drivers
Keep up to date with all the F1 news via Facebook and Twitter