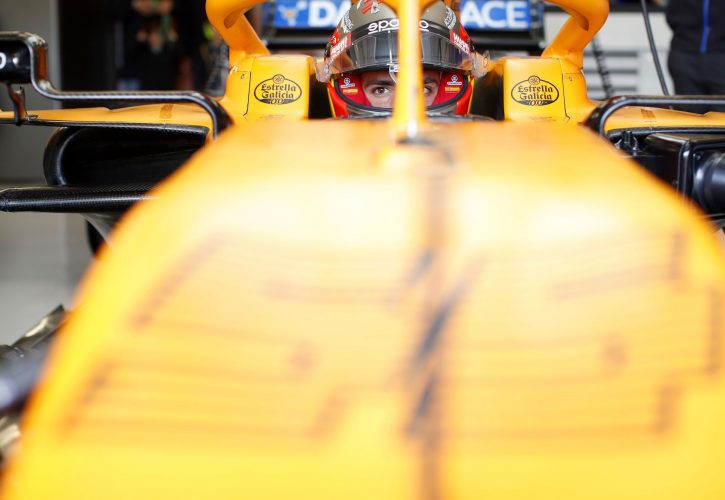 Carlos Sainz says F1's 2020 midfield is a tight bunch of contenders, but the Spaniard is nevertheless wary of two teams in particular.
Pre-season testing in Barcelona offered a glimpse at the potential of those who will be fighting for F1's honorary title of 'best of the rest'.
But defining a pecking order ahead of Melbourne is an elusive exercise.
"Everyone is looking strong," said Sainz after concluding McLaren's preparation in Spain.
"Every single team you look at, at some point in the test, they have done a very strong lap time, so it's difficult to know who is at the front of the midfield or behind.
"Racing Point, or even AlphaTauri, I would put as the most dangerous guys to beat; I think we will all be in the mix."
Much has been said and written about Racing Point's RP20 and its many similarities with Mercedes' 2019 W10.
The Silverstone-based outfit's car showed undeniable flashes of speed in the hands of Sergio Perez and Lance Stroll, but Sainz suggests the pink squad was playing its cards close to its chest.
"The team [McLaren] doesn't have a clear picture of how far we are from the top three," Sainz explained.
"But we will see immediately in FP1, FP2 [in Melbourne], when we will run the same fuel loads or more or less.
"On the midfield, the Racing Point – they've been very quick the whole of the two weeks. They hit the track on the first day and they did a [1m]17.3.
"And since then they haven't improved much because I don't think they want to - but that 17.3 on the first day, I think it impressed all of us and they're going to be quick, very quick."
McLaren aims to hold its own at the head of the midfield this year, but Sainz also hopes the group as a whole can inch closer to the Mercedes-Ferrari-Red Bull trio, and possibly steal their thunder if the odd opportunity to do so arises.
"What I hope is all of us are closer to the top than we were last year. That would be my biggest wish, independent of the position," he said.
"I wish the midfield this year could be close enough to the leaders to make sure if the leaders have an accident in lap one, that they don't move through the field, that would be my biggest thing."
Gallery: The beautiful wives and girlfriends of F1 drivers
Keep up to date with all the F1 news via Facebook and Twitter