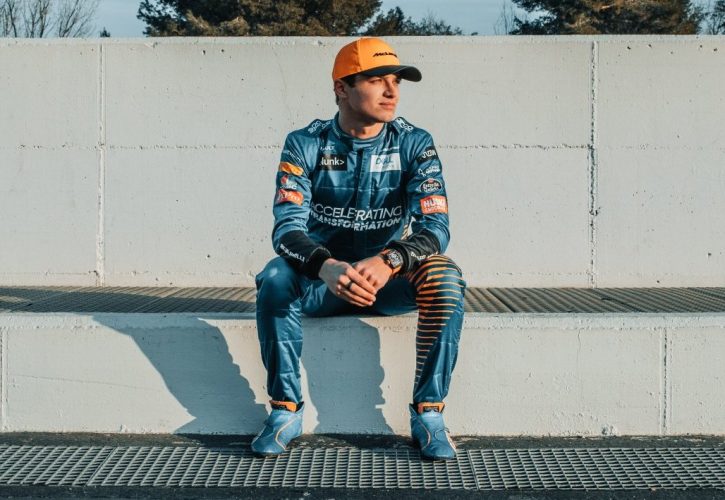 McLaren's Lando Norris says he'll be lining up on the grid in Melbourne next week with his head "in a much better place" compared to last year's anxiety-filled debut.
As a 19-year-old rookie promoted to the big time with McLaren in 2019, Norris remembers a swarm of butterflies flying around in his stomach ahead of his maiden race in F1.
But twelve months and 21 races later, after an impressive freshman year in the sport, the angst and jitters have abated.
"I'm feeling much better, I feel a lot more relaxed and a lot more confident," he told Reuters' Alan Baldwin. "My head's in a much better place.
"Last year there was just so much anxiety, so many nerves. I just couldn't enjoy it. Now I feel in a much better place, so I look forward to going racing much more."
After concluding pre-season testing last week in Barcelona with McLaren's 2020 contender, Norris drew up a positive report on both the MCL35 and his own personal progress.
But the 22-year-old says that Formula 1's midfield is looking more competitive than ever.
"It's going to be close between all the midfield teams," he said. "Racing Point do look very good, straight out of the blocks. The whole midfield including Williams this year look very close.
"So I think we need to work hard and keep our heads down and try to improve. Maybe Racing Point will be slightly towards the head of it, but I hope we can regain control and go from there."
Next week's season-opening Australian Grand Prix takes place amid the ramping coronavirus outbreak, a crisis that has placed a cloud of uncertainty over the first three races of the season.
In Barcelona during pre-season testing, McLaren implemented its own precautions, restricting access to its hospitality unit to anyone originating from China, while also advising its drivers to adopt a few good protective habits like avoiding handshakes.
Will he therefore be greeting teammate Carlos Sainz with a foot bump?
"I think I never shake hands with Carlos anyway," a laughing Norris said. "I normally punch him or he punches me!"
Gallery: The beautiful wives and girlfriends of F1 drivers
Keep up to date with all the F1 news via Facebook and Twitter