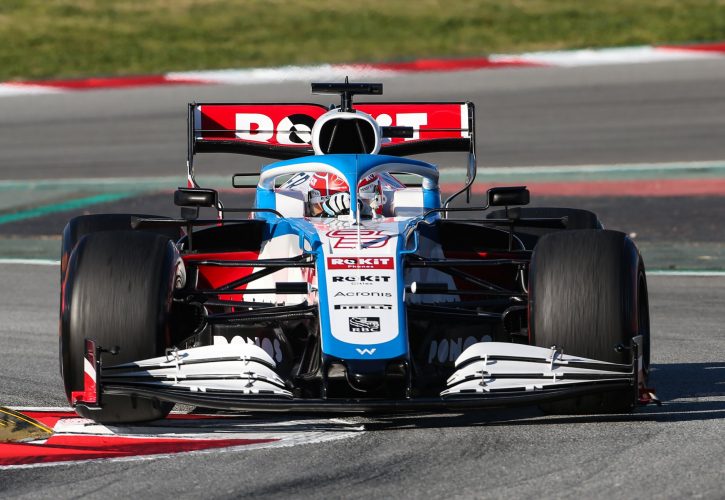 Williams deputy team principal Claire Williams says the British outfit will remain an independent manufacturer in F1, insisting that Racing Point's 2020 model with Mercedes "wouldn't have worked" for it.
Racing Point's 2020 contender was directly inspired by the design of last year's championship winning Mercedes W10, with the pink squad's technical director Andy Green relying on the same aero philosophy and an almost identical engineering approach.
The team's RP20 drew criticism from rival teams who believed the car was nothing more than a secondhand Silver Arrows, although Green took exception with the claim, insisting that all parts had been designed and manufactured in-house at Racing Point.
The Silverstone-based outfit's approach doesn't follow the specific technology sharing model embraced by Haas with Ferrari, the likes of which has been heavily criticized by Racing Point, but its 'carbon copy' concept isn't all that dissimilar.
Despite the effectiveness of Racing Point's approach, based on the RP20's performance in pre-season testing, Williams has no intention of going down a similar path with its Mercedes engine supplier.
"I wouldn't criticise another team's way in which they go racing as long as its within regulations, which it is, and it is their decision in how they want to bring a car to racing," Williams said, quoted by Crash.net.
"We're very proud of the fact we are an independent constructor and we manufacture our car ourselves and it's not a model that we're looking to change at the moment.
"If it works for them this year, the last year prior to a new regulation change, great, but it wouldn't have worked for us and that's why we're continuing on the road we are."
As F1's third most successful team, Williams finds itself up against the wall this season, its goodwill eroded by two years of dismal performance, with the Grove-based outfit scoring just a single point during its miserable 2019 campaign.
Contrary to last year, Williams completed its new FW43 on time for pre-season testing, thanks partly to the fact that it outsourced some of its manufacturing to avoid the delays that crucially undermined the debut of its 2019 car.
And the team also enjoyed a productive two weeks at the Circuit de Catalunya, void of any major dramas.
There's no question Williams heads to Australia in a better place and with the hope that it will finally begin to pull itself out of the doldrums.
"I'm feeling a lot happier, probably inevitably," Williams added.
"That's not going to come as a surprise to anyone, things at Williams have definitely taken steps forward but that's been off the back of a lot of hard work that everybody in the team has done over the last 12 months to ensure that's been the case.
"But we know we've still got a lot of hard work to do if we are to achieve our ultimate goals and that's to get Williams back to where we want to see it and that's podiums and races, but that in reality is a way off.
"This year the target is to make clear progress. I think just coming to testing and having achieved what we've done here in these last six days demonstrates that, but we've got to get to Melbourne to see where we truly are."
Gallery: The beautiful wives and girlfriends of F1 drivers
Keep up to date with all the F1 news via Facebook and Twitter