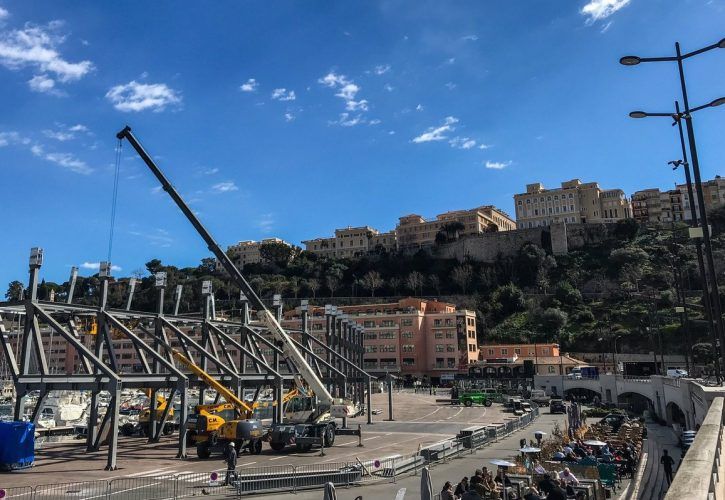 Monaco Grand Prix organizers have issued a statement in which they say they are "fully aware" of the coronavirus threat as they start the annual build-out of the Principality's track.
Monte Carlo's transformation is underway, with the venue's historic meeting scheduled to take place on the weekend of May 12-13 while the Grand Prix will be held on May 21.
The Automobile Club de Monaco is monitoring events linked to the Covid-19 pandemic and communicating with Formula 1 and the FIA.
"The Automobile Club de Monaco (ACM), organiser of the Grand Prix de Monaco Historique (May 8-10, 2020) and Grand Prix Formula 1 (May 21-24, 2020), is fully aware of the spread of the Covid-19 and the worrying situation that this generates," the ACM stated.
"These are the reasons why the ACM is in permanent contact with the Monegasque Governmental Authorities, the sports and commercial entities of Fl, the Federation Internationale Automobile (FIA) and the Formula One Group (FOG).
"Preparations for the build-up of the circuit have just started with the first structures being installed in the coming days.
"The ACM is ready to take all of the necessary precautions and will continue to comply with all measures as recommended by the official health authorities.
"We will also continue to update you as the situation develops.
"Based on the latest information provided to the ACM, both the Grand Prix de Monaco Historique and the Grand Prix Formula 1 2020 are currently expected to take place on the dates as originally planned."
Gallery: The beautiful wives and girlfriends of F1 drivers
Keep up to date with all the F1 news via Facebook and Twitter