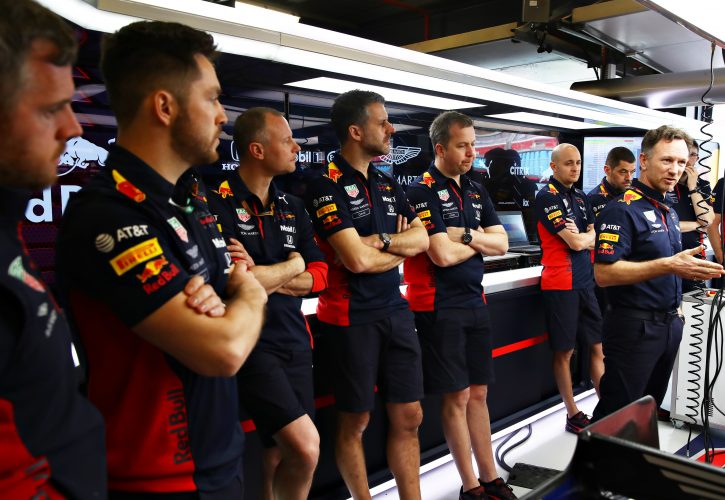 Red Bull team boss Christian Horner says a total lockdown of the F1 paddock in Melbourne was among the options considered by F1 and organizers to enable the Australian GP to run its course.
After a McLaren team member tested positive for the coronavirus on Thursday, the Woking-based outfit withdrew from the season-opening event, a decision that set in motion a series meetings that ultimately led to the race's cancellation.
Red Bull was among those teams willing to race, or at least to run on Friday, as F1 chief Ross Brawn suggested, and then continue the race weekend if no additional team members tested positive for the COVID-19 disease.
"We were minded to monitor the situation," Horner explained. "The local health authority was giving the go-ahead for the event, the FIA were giving the go-ahead.
"There was a majority that were in favour of running and doing more screening today [Friday] in the event of any more outbreaks.
"Obviously we discussed the different scenarios," he added, quoted by Motorsport.com.
"There was a discussion of locking the paddock down and taking further precautions.
"The health authority and the FIA were OK to continue, if the majority of teams were OK with it. But unfortunately that didn't happen."
Team bosses convened at the Crowne Hotel in Melbourne along with Brawn to debate the merits of keeping the race weekend alive and cast a vote on the issue.
Haas and Williams abstained, and the initial tally was split down the middle, with Mercedes, Red Bull, AlphaTauri and Racing Point in favour of going racing, and Brawn handed the responsibility of making the final call and ending the gridlock.
But during the night, a phone call from Daimler CEO Ola Kallenius to Mercedes team boss Toto Wolff incited the latter to switch camps, thus awarding a majority to those in favour of calling it a day.
While frustrated by the turn of events, Horner recognized that the subsequent cancellation of the Australian Grand Prix was the only reasonable course of action in light of the health and safety risks linked to the maintaining the event.
"It's obviously frustrating," Horner said. "The situation globally is changing hour-by-hour and day-by-day.
"When we arrived in Australia the intention was to go racing but unfortunately following the positive test of a person within the paddock the decision was made to cancel the event.
"Ultimately the safety and wellbeing of staff, the fans and the paddock is hugely important."
Gallery: The beautiful wives and girlfriends of F1 drivers
Keep up to date with all the F1 news via Facebook and Twitter