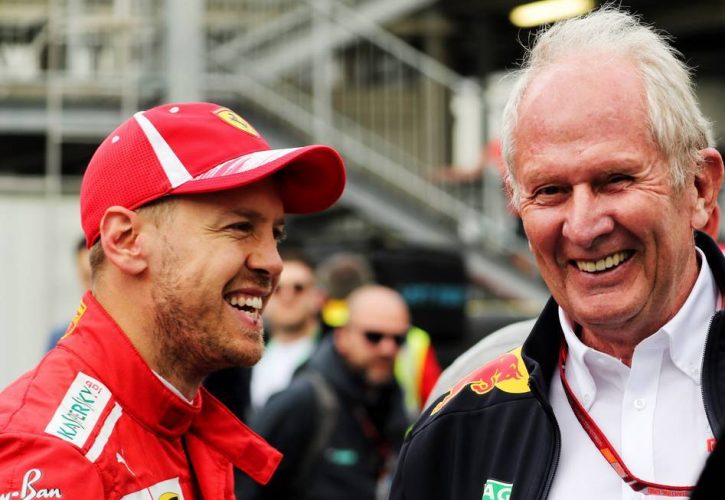 Red Bull motorsport boss Helmut Marko says that after speaking to Sebastian Vettel, the Austrian sees only two options for his former driver for 2021: retirement or a move to Mercedes.
Last week's news of Vettel's split with Ferrari at the of this year has encouraged pundits to predict the four-time world champion's next career move.
While a slot at Renault has opened up following Daniel Ricciardo's transfer to McLaren, few believe Vettel would accept a mid-field ride just to remain on the grid.
Red Bull Racing, the team for which Vettel won all four of his world titles, has dismissed pairing the German with fellow "alpha male" Max Verstappen.
However, a seat at Mercedes could certainly entice the 32-year-old, even if it's one positioned alongside Lewis Hamilton.
Mercedes boss Toto Wolff has acknowledged Vettel's availability, but also made clear that the priority for 2021 will go to the team's incumbents and its protégé George Russell.
"I talked to Seb and of course we went through the variations and possibilities at Red Bull," Marko told Sky Sports in Germany.
"Those unfortunately don't exist and I think the understanding was Seb would continue if he gets into a winning team and that would be Mercedes in this case."
But Marko suggests that a plush retirement is most likely on the cards for Vettel.
"He is a four-time World Champion who has achieved a lot in this sport and who is in a good financial position before he takes on any midfield team.
"I would also say that it would suit Seb's character, his style, to stop.
"It would be a shame for the sport but for the person Sebastian Vettel, it would be the best solution if no winning team is available."
Gallery: The beautiful wives and girlfriends of F1 drivers
Keep up to date with all the F1 news via Facebook and Twitter