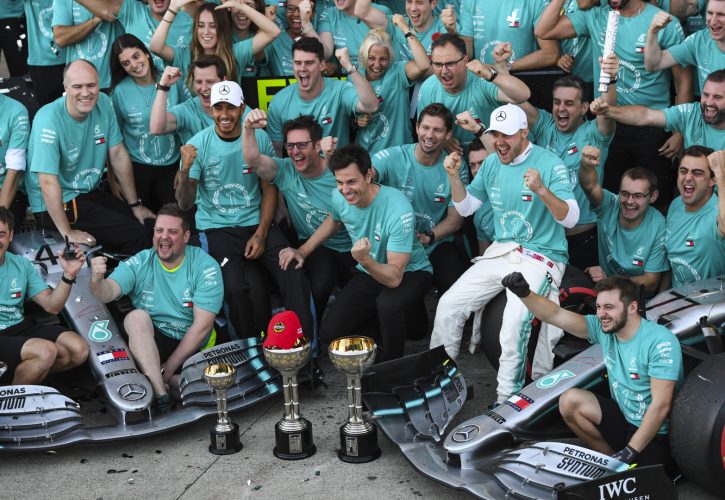 The cost cutting that will be required because of the introduction of F1's budget cap in 2021 could mean Mercedes will diversify into other motorsport championships in the future.
That's according to team principal Toto Wolff, who says that diversification might be the only way for large F1 teams like Mercedes and Ferrari to continue in their current form without having to let hundreds of key personel go.
From next season, all teams will have to operate within a budget of $145 million, which will be progressively further lowered over the following seasons until it stabilises at $135 million for 2023-25.
Wolff accepts the need for the reduced figures in the wake of the shock to the sport due to the coronavirus pandemic. But he says it will undoubtedly have an effect on how the big manufacturers approach F1 in the future, as well as motor racing in general.
"We're living in a financial reality that is very different to pre-COVID-19, and we have accepted the lower budget cap," he told Autosport magazine this week.
"It is a must that successful F1 franchises earn money rather than lose money," he acknowledged.
"For us it is also a way of making sure that Daimler not only appreciates the sporting and marketing benefits of the platform, but also to make it as cost-neutral as possible," he added. "This is why we need to support such a cost cap."
But the cost cap will mean that Mercedes will need to shed skilled staff from their workforce at Brackley - unless they can be redeployed onto a new project away from F1.
Ferrari faces the same hard choices at Maranello and has started to look at setting up new teams to race in other championships, with a mooted IndyCar project under discussion.
Wolff says that Mercedes might also look into that approach as a way of retaining its staff while still meeting the F1 cost-cutting requirements overall.
"Maybe we will look at other race categories in order to keep the resource, and keep the human resource and intellectual property within Mercedes," he suggested.
"For us it means readjusting," he continued. "It means changing the way we do things and deploy personnel in new areas.
"We have a very strong department that is called Mercedes Benz Applied Science, where we work for high-performance clients and deploy our services."
But Wolff insisted that whatever happened, F1 would remain at the heart of Mercedes' plans for the foreseeable future.
"The top management of Mercedes very much sees Formula 1 as a core activity," he said. "We build road cars, and we build race cars - actually the first ever car was a race car.
"There is a technology transfer between the road and Formula 1, and it's not being criticised within Daimler.
"In that respect we don't see it simply as a marketing platform that generates valuable marketing dollars," he stated. "We see it as a core exercise."
Despite Wolff's confident statements, there remains a question mark over Mercedes' long term commitment to F1 after winning an unprecedented six back-to-back world championships.
And Wolff's own future at the company has also been thrown into doubt by stories linking him to a job at Aston Martin, and a renewed investment with the struggling Williams team.
Wolff has been forced to deny a rift with new Daimler chief Ola Kallenius, who took over from Dieter Zetsche in 2019.
"With Ola I had quite a laugh when these rumours came up, that there was some dysfunctionality in our relationship," he commented. "We are on the phone many times every single week and he is very involved.
"I have bought a few shares in Aston Martin as a financial investment," he conceded. "But I'm planning with Mercedes that I have the best intention to stay here, and that is unchanged."
Gallery: The beautiful wives and girlfriends of F1 drivers
Keep up to date with all the F1 news via Facebook and Twitter