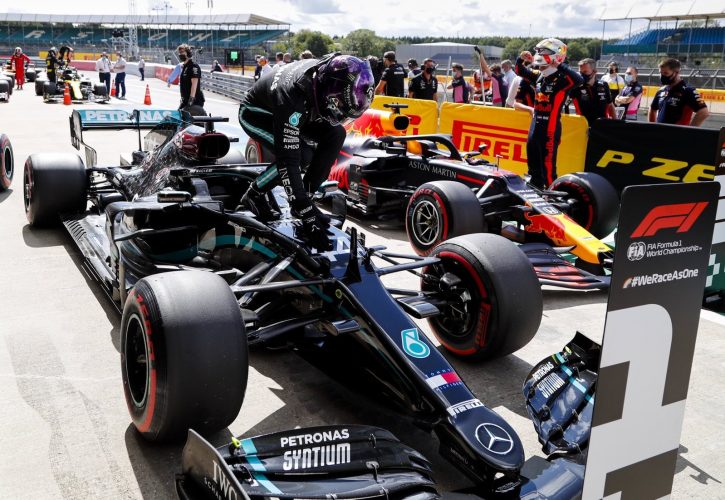 Lewis Hamilton set a new track record as he clinched pole for the 2020 British Grand Prix at Silverstone, despite suffering an unusual spin early in Q2 which triggered a red flag.
His team mate Valtteri Bottas was Hamilton's only close competition during the session, but the Finn ultimately had to settle for second place on the grid as part of another Mercedes front-row lock-out.
Red Bull's Max Verstappen was a full second slower than Hamilton in third place and will share the second row with Ferrari's Charles Leclerc. Lando Norris was fifth, while Alexander Albon and Nico Hulkenberg both failed to make it to the final round.
After Friday's superheated practice sessions, Saturday saw more familiar British summer weather installed at Silverstone - bright but distinctly overcast, breezy and much cooler than it had been just 24 hours ago, with even a suggestion of light rain in prospect as the drivers headed out on track for the first round of qualifying.
Q1: Bottas and Hamilton on top, Russell under investigation
Haas pair Romain Grosjean and Kevin Magnussen together with Alfa Romeo's Antonio Giovinazzi and Kimi Raikkonen were the first to depart pit lane straight on to the soft compound tyre followed by AlphaTauri's Daniil Kvyat. Raikkonen had the honour of setting the first lap time of the session with 1:27.941s but this as soon bettered by Giovinazzi and then by Magnussen.
No sooner had Kvyat had gone fastest with 1:26.819s than his team mate Pierre Gasly leapt to the top. Then it was the turn of the Racing Point drivers, Lance Stroll going quickest but supersub Nico Hulkenberg struggling at the exit of the Loop which left him only third on the timesheets.
By now the bigs guns had taken to the field, Valtteri Bottas's opening lap of 1:26.092s proving more than three tenths faster than his Mercedes team mate Lewis Hamilton. Max Verstappen slotted his Red Bull between the pair, with Charles Leclerc fourth fastest for Ferrari ahead of Stroll and Alex ALbon good enough for sixth ahead of the two AlphaTauris. Last man to set a time was Lando Norris after the McLaren briefly went off-track during his first effort only to join Carlos Sainz in the top ten with his second.
The usual suspects were in peril of elimination with Magnussen, Raikkonen, Giovinazzi and Grosjean all in the bottom five, the Frenchman slowest of all after having had a lap deleted for exceeding track limits. Nicholas Latifi was also in the drop zone, but his Williams team mate George Russell was currently 'on the bubble' in 15th and in with a solid chance of going through to Q2 for the third time in succession.
With the exception of Bottas, Verstappen, Leclerc and Albon, everyone bas back out for another run in the final minutes of the session and there were big improvements for Hulkenberg and Gasly putting both into the top six. However Latifi spun out at Luffield and triggered local waved yellow flags while he recovered. Russell was placed under investigation for improving his time despite the local caution, but for now the Briton was safe in 13th and through to Q2 again. Latifi and the Alfa and the Haas drivers were cast to the sidelines, but Raikkonen was complaining about being blocked on his second run by Renault's Esteban Ocon - another incident which will also be reviewed by the stewards.
Q2: Bottas quickest as Hamilton spins, Albon and Hulkenberg eliminated
When battle resumed at the start of Q2, there was the added factor of race day tyre strategy to consider. McLaren and Renault decided to try sending their drivers out on soft tyres as were Russell and Sebastian Vettel, but the others including Leclerc and both Mercedes opted for the mediums.
The nominally slower compound certainly didn't seem to hamper Bottas, who immediately set a new qualifying lap record time of 1:25.015s to go a full second ahead of Verstappen and Leclerc. But the news wasn't as good for Hamilton who uncharacteristically spun at Luffield and scattered gravel onto the track in the process. Before he could get a second try, race control opted to throw a red flag to allow marshals to clean up the track which forced Hamilton and the others to return to pit lane for the duration.
When the track went back to green flag conditions, Hamilton was first out having picked up a new set of medium tyres. Although he was a third of a second slower than his team mate, his time was easily good enough for second place. After that there was a prolonged paused before the rest of the field finally stirred and made their way back out for one last push. Most were on soft tyres - even Bottas and Hamilton were n the red-walled compound just to protect their position - but Vettel and Stroll stuck doggedly to the mediums.
Sainz improved enough to move into fourth ahead of Leclerc, followed by Ocon and his Renault team mate Daniel Ricciardo. Norris was also safely through in eighth while the medium gambit just about paid off for Stroll although the margin couldn't have been finer - his time was exactly the same to the thousandth of a second as that of Gasly. Since the Racing Point had set the time first, it was Gasly who was the first man eliminated along with Albon, Hulkenberg, Kvyat and Russell.
While Vettel managed to make it through, it was his earlier time on the soft compound which did the business for him which means that he will start Sunday's race on the red tyres while Leclerc has the advantage of the mediums.
Q3: Hamilton flies to pole with Bottas on front row
With the business of tyre selection for those starting in the top ten taken care of, it was time for soft tyres all around in time for the final 12-minute pole shoot-out to decide the remaining starting positions for Sunday's race.
Norris was the first driver to emerge out on track, with the rest of the field hot on his heels and a the rush contributing a near-miss on pit lane when Leclerc was released into the path of Stroll. Fortunately no harm was done, but it was one more matter added to the stewards' to-do list for later in the day.
Having paced Q2 so emphatically, Bottas now lost the initiative to his team mate who was able to shatter the Finn's minutes-old track record with a stunning 1:24.616s. Bottas also improved on his earlier time but was left 0.150s off the provisional pole. Both men were over a second quicker than Verstappen, Stroll, Leclerc and Vettel, with McLaren and Renault respectively set to fill out the fourth and fifth rows.
After that initial burst of activity, there was a brief lull as the cars returned to pit lane to regroup before their final push before Stroll broke cover and headed out, with Ricciardo, Sainz and Ocon close by. Last man to head out was Verstappen in the Red Bull.
Hamilton managed to find even more time to extend his advantage at the top and secure pole with a time of 1:24.303s, now 0.313s quicker than the best that Bottas could produce. Leclerc briefly rose to third place but was swiftly beaten back into fourth by a better run from Verstappen, while Norris improved to fifth ahead of Stroll, Sainz, Ricciardo and Ocon, with Vettel unable to do better than tenth place on the grid.
Gallery: The beautiful wives and girlfriends of F1 drivers
Keep up to date with all the F1 news via Facebook and Twitter