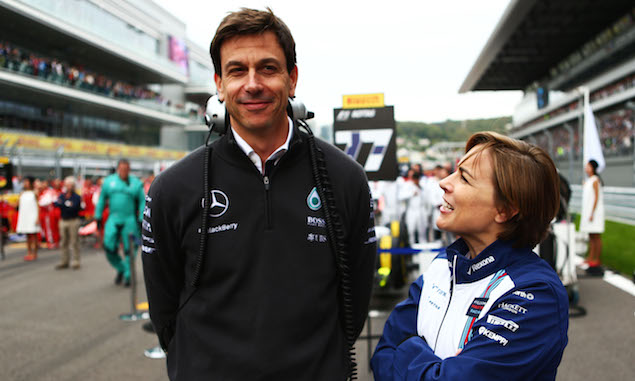 Mercedes boss Toto Wolff says he supports a closing of his team's performance advantage to make F1 more competitive but says it must be done in a fair manner.
The introduction of the 1.6-litre V6 turbo power units at the start of 2014 led to immense dominance for Mercedes, with the team winning 32 of the 38 races to have taken place since then, including 23 one-two results. Wolff admits Mercedes sees less return if it is winning in such a fashion and acknowledges the need for more competitive racing but feels it should be done gradually though regulation tweaks.
"The teams also have different points of view, which are often opportunistic," Wolff told Auto Motor und Sport. "But we also all have a responsibility towards the sport. It makes no sense at all to win on a single platform that is boring or less attractive. We are trying the best possible way. I am fully aware that our victories are only worth something if they not only worked for, but also fought on the track. We need enemies.
"Mercedes has won twice and now has softened the engine rules, because we realise that point of view. It is clear that the FIA ​​and the commercial rights holder sometimes present different views. I would sit on the other side, I would also like that each race we win, but that we have the maximum unpredictability.
"The question is how we get there. Do we want to curtail someone who has built up a competitive advantage, and create an equality in the sense of entertainment? This is certainly one of the ways, but it was never done in Formula 1 like that.
"Or do we want to develop the regulations without major controversy in a direction that we adjust performance? This takes time, but is the more sensible way."
Playing the joker: Sebastian Vettel
Technical feature: All of the 2015 F1 steering wheels