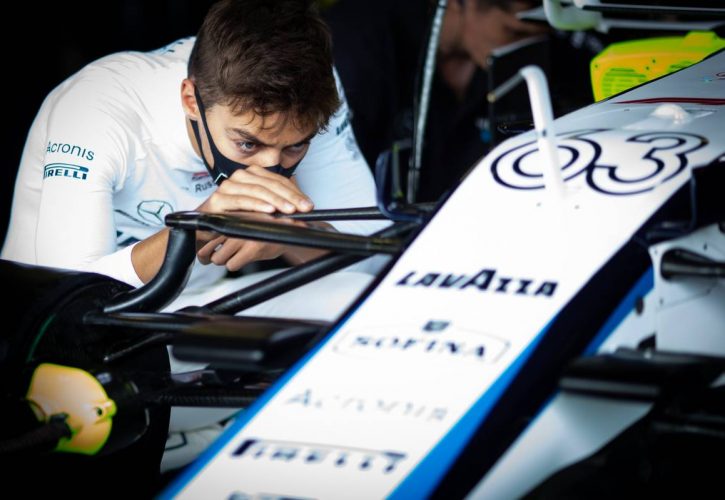 Jenson Button doesn't doubt George Russell's outstanding talent, but the 2009 F1 world champion would like to see the young Briton race alongside a "competitive" teammate in a midfield outfit before eventually moving to Mercedes in the future.
Russell embarked last month on his second season of Formula 1 with Williams. The 22-year-old is seen as a future star and a prime candidate for a seat at Mercedes in 2022, perhaps alongside Lewis Hamilton.
While Williams' performance has improved this year, the team remains in the third tier of F1's field, at least on race day. Button argues that a season with a top midfield squad would benefit Russell before moving on to the next big level.
"Going up against Lewis is tough anyway but when you're that inexperienced it's really difficult," Button told Sky Sports F1.
"I would love to see him in kind of a Renault or Racing Point with a very competitive team-mate, going up against them.
"Because he's confident, he has proven his speed, his fitness which you really need in Formula 1 now, and his feedback because Williams have made good progress from last year to this year.
"But we need to see him against someone that's also very competitive."
Williams recently confirmed Russell's presence in the team for a third season in 202, while Valtteri Bottas will in all likelihood remain with Mercedes next year.
But Russell insisted at the time that he would have been ready for a promotion to the Black Arrow squad.
"I'm absolutely ready," he told Crash.net. "I feel ready. I've had a year and a bit under my belt, and I would have the remainder of this year.
"But there's no hard feelings from Mercedes' perspective, there's nothing more they could do. Ultimately, I have a contract here at Williams."
Gallery: The beautiful wives and girlfriends of F1 drivers
Keep up to date with all the F1 news via Facebook and Twitter