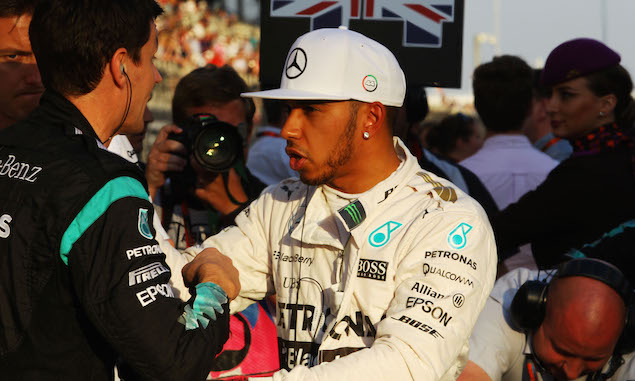 Lewis Hamilton says the planned new regulations for 2017 highlight a lack of understanding from F1's bosses.
Regulations are being drawn up to make F1 cars faster and more aggressive-looking from next year, with an initial target of reducing lap times by five seconds. However, while Hamilton is a supporter of radical change within the sport, he says the knowledge he has of the current plans shows a lack of a clear direction.
"Obviously something does need to change because Formula 1 has been the same for a long, long time," Hamilton told Sky Sports. "I know they're talking about giving us more aerodynamics [in 2017] which for me is the worst idea. It just shows that, for me, they don't really know what they're trying to solve.
"From the driver's point of view, we want more grip from the tyres; we want less wake coming from the car so therefore we can get closer."
While he feels it is clear what F1 should be working towards, Hamilton admits it is a difficult problem to fix.
"When you're racing a guy, whoever is in front the guy in front has 100% potential of the aerodynamics and the guy behind the closer he gets his potential deteriorates. So then the advantage he did have when he was catching you initially disappears as he gets closer and closer, which shouldn't be the case.
"So, we need better tyres, better grip from our tyres, we need more mechanical grip and ultimately it might not mean that we need less aerodynamics but we need less wake so the car behind doesn't have that turbulence if possible. I don't even know if that's possible."
Key dates for the 2016 F1 season
Playing the joker: Sebastian Vettel
Technical feature: All of the 2015 F1 steering wheels
Use the red tabs on either side of the screen to scroll through more Formula One news and features