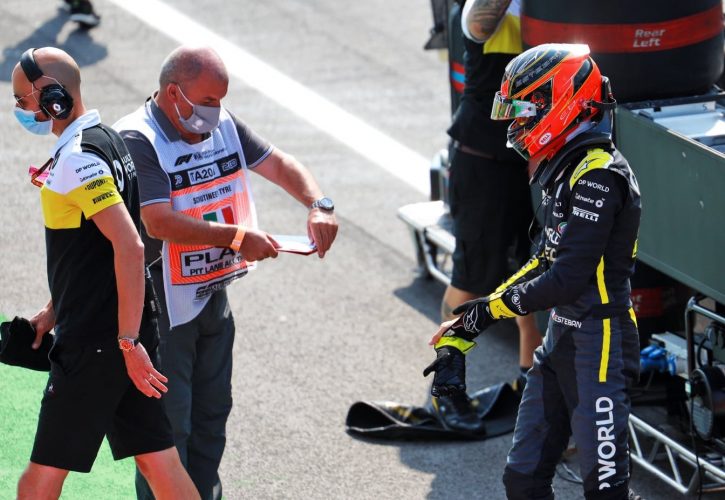 A frustrated Esteban Ocon was restricted from venting his grievances at the end of the Italian Grand Prix, the Frenchman beeing called to order by the Renault pitwall on his cool-down lap.
Ocon was not a happy camper after Sunday's race, having been forced to restart the red flagged race on a set of soft tyres because his team had failed to prepare a set of the preferred and more durable medium compound rubber.
Ocon eventually crossed the checkered flag P8 despite the degradation of his red-rimmed Pirelli softs.

On his cool-down lap, after his race engineer praised his performance, a disappointed Ocon alluded to his team's tyre choice blunder but was immediately brought into line by his team as the following exchange unfolded.
Engineer: Esteban, fanastic job there. Fantastic job, well done mate. P8 from P12 is not bad at all.
Ocon: I disagree. I think we missed out completely in this race. It was a massive opportunity...
Engineer: Just hold it on the radio, hold it on the radio please. We will talk about it in the office. Thank you
Ocon: No, we have to face what the reality…
Engineer: Please, do not talk about it on the radio.
Abiteboul: Esteban, this is not the place.
If this is how @RenaultF1Team feel about their drivers speaking their mind on the radio after disappointing races, good luck with @alo_oficial next year! 😂😂pic.twitter.com/1LFoKrLte7

— Chris 🖖🏻 (@chris1701D) September 6, 2020
After the dust had settled, a composed Ocon chose to view the glass as half full.
"Of course, we had in mind to get a good start with those soft tyres, unfortunately my medium set was not ready to go," he said, quoted by RaceFans.
"We couldn't choose it, otherwise we would have done. So it was very good pace the first two laps but on the third lap, it did degrade quite significantly.
"I was not obviously so happy about the balance and how things evolved after that.
"So I think if we had to do it again, we would have chosen the medium but obviously they were not ready and in condition."
Gallery: The beautiful wives and girlfriends of F1 drivers
Keep up to date with all the F1 news via Facebook and Twitter