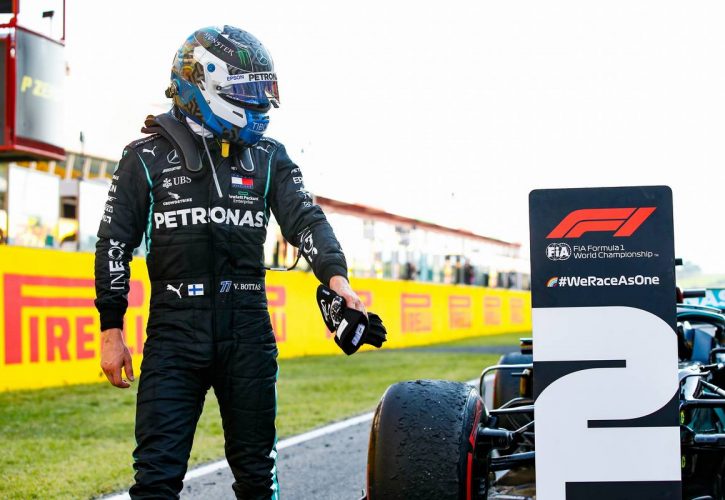 Valtteri Bottas can talk the talk but can't walk the walk according too BBC 5 pundit Jolyon Palmer, who says the Finn just can't take the fight to Mercedes teammate Lewis Hamilton.
Bottas was shadowed by Hamilton in the Tuscan Grand Prix, losing more ground to the championship leader in the drivers' standings in which he now sits 55 points adrift from Hamilton.
Palmer feels that Bottas isn't delivering on the words he uses to try and spur himself on or on his in-race communication with his Mercedes crew as demonstrated at one point in Sunday's race when he vowed to do the opposite than his teammate to try and gain a strategic advantage. To no avail unfortunately.
To no avail unfortunately.
"Bottas doesn't like challenging Hamilton," Palmer said on BBC 5 Live's Chequered Flag podcast.
"He talks a lot on the radio. He really talks it up a lot. He was like 'I want to do whatever Lewis doesn't do' and before [at Spa] he was like 'why didn't you give me the overtake option? You didn't talk about this in the briefing'.
"He talks a lot but ultimately you never see fight from him in the race. He talks a good game, he's a fast driver, he pushes Lewis really hard on Saturdays but on Sundays he just doesn't.
"It just looks all too easy for Hamilton."
Bottas suggested that his inability to challenge Vettel was partly due to bad luck. But Palmer noted that in yesterday's race, the Finn was offered the safety car he had been hoping for, only to blow his chance on the restart.
"He said at the end of the second stint 'I'd love a Safety Car about now', three laps later, Safety Car, bingo! It's gone your way," the Briton said.
"He might as well have been there end of lap 46 saying 'I'd love a bit of luck right now' and then it just happens for him but couldn't do anything with it.
"It's not luck for Bottas, it's just skill. He's only just behind Hamilton in qualifying but it is skill that is putting Hamilton ahead and it is a bigger chunk of skill that is putting him ahead in the race."
Gallery: The beautiful wives and girlfriends of F1 drivers
Keep up to date with all the F1 news via Facebook and Twitter