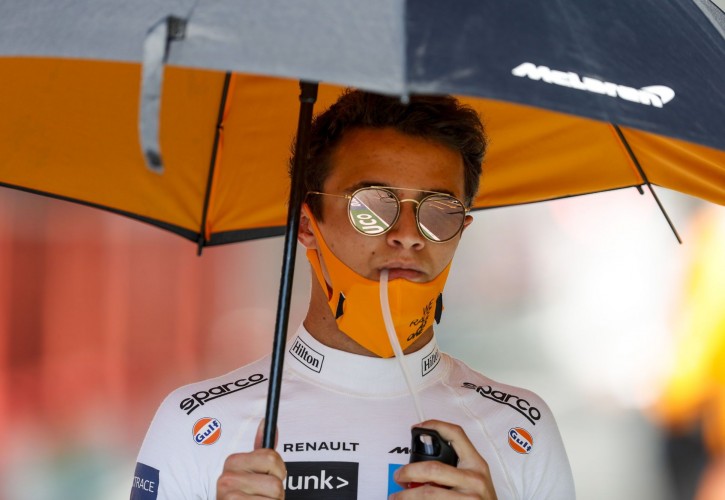 Lando Norris says McLaren has a lot of work to do with its car, the Briton making the most of a poor weekend at Mugello.
Norris avoided the thrills and spills in Sunday's chaotic Tuscan Grand Prix, keeping himself out of trouble to finish sixth, a result that the Briton believes maximized his team's potential at a venue where it struggled to get to grips with a particularly sensitive MCL35.
While teammate Carlos Sainz qualified ninth, Norris failed to make the Q3 cut for the first time this year, results that coupled with Sunday's performance reflected McLaren's struggle for pace at the challenging Mugello track.
The overall underperformance surprised the Woking-based outfit after Sainz's impressive showing at Monza a week earlier.
"It was very difficult to drive," said Norris, reflecting on his MCL35's behavior. "The conditions were very similar to yesterday and weren't suiting our car, so it was very difficult.
"We've got a lot of work to do with the car, even though some races we've been very fast, but it seems so sensitive to different conditions and different track surfaces and so on, and it makes our life a lot more difficult.
"We came here thinking we were going to be pretty quick, we had a lot of confidence and it went away pretty much straight away," he added.
"We have to understand this car even more, even though we've had it for a while and had some good results.
"F1 cars are not easy to figure out, and from my side, the mechanics, the engineers all have to continue to push and do even better."
Norris believes circumstances rather than pace allowed him to add 8 points to his tally, a result that surpassed his expectations.
"We just stayed out of the crashes and the rubbish and we did a lot better than we were expecting," he said after Sunday's race.
"So as much as it was a long and tough race, I was very happy… We didn't have the pace today, but I think we made the most of a pretty poor weekend, so hopefully the next one can be a little bit better."
Gallery: The beautiful wives and girlfriends of F1 drivers
Keep up to date with all the F1 news via Facebook and Twitter