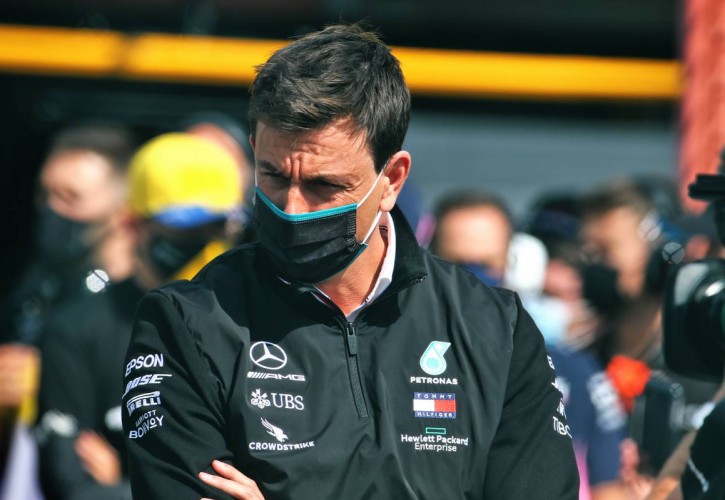 Former team boss and pundit extraordinaire Eddie Jordan says Toto Wolff should "get the hell out" of Mercedes, because the German team's fortunes are at their peak.
Wolff's management contract with Mercedes runs out at the end of this year, but the Austrian has repeatedly said that he intends on remaining with the manufacturer in F1, although in a less burdensome role.
Jordan recently claimed that Mercedes was negotiating an outright sale of its F1 outfit to UK chemical giant and sponsor INEOS. But the story was subsequently rubbished by Wolff.
Nevertheless, Jordan believes the time is ripe for Wolff - who holds a 30% stake in the Mercedes team - to cash in his chips.
"The only thing that I was really sure about is that INEOS will buy the team," reiterated Jordan, speaking to Ziggo Sport.
"And for sure in that package, with the people of Mercedes and particularly the new Chief Executive, it's a well-known fact that Ola [Kallenius - Mercedes boss], who is the new CEO and the chairman of the group, he's had some issues with Toto in the past.
"And, you know, Toto, to be very honest, he is right up there with the likes of the Frank Williamses, the Ron Dennises and all of these guys, you know.
"He's been sensational. So it's time that he moved on himself."
The dominant Black Arrows outfit is on course to win its seventh consecutive Constructors' title this year, with Hamilton also racing towards a seventh crown.
For Jordan, Mercedes' fortunes are as good as they will ever be, leaving Wolff with little more to achieve.
"I'm sure he's getting tired of the situation," added Jordan. "He's won all of these championships and he's created a myth around Lewis Hamilton and indeed the team.
"In life, you've got to remember that there is a very good time to get out and there's a very bad time to get out. And a very good time is now for Toto.
"If it was me, and I was his advisor, I would say: 'Get the hell out of there. Please, Toto. Take the money off the table, it will never get as good as this in the future'."
Gallery: The beautiful wives and girlfriends of F1 drivers
Keep up to date with all the F1 news via Facebook and Twitter