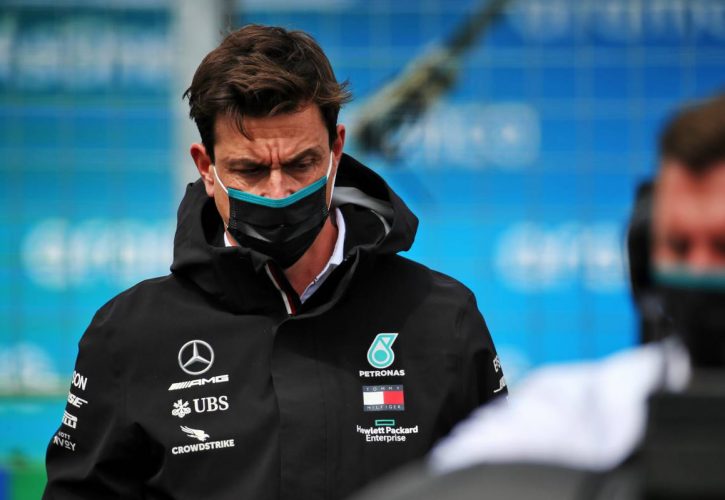 The current season might only have got underway at the start of July, but it's already more than half done after an intense period of racing over consecutive weekends.
Toto Wolff praised the sport for managing to put together a revamped schedule after the disruption caused by coronavirus, but admitted that he had been happy to have a week off to get some rest ahead of the Russian Grand Prix.
"After nine races in eleven weekends, and having reached half distance in the championship, Formula 1 had a well-deserved weekend off," he wrote in the team's preview of the next race.
"F1, the FIA and the local promoters did an impressive job in setting up a calendar in these difficult circumstances and making sure our series could safely return to the race track.
"However, the condensed schedule also meant a relentless three months for many people working in our sport.
"Those women and men - from all teams and in all kinds of positions - deserve our gratitude for making sure that we could do what we love most: go racing."
Nine events into the 17-race calendar, Mercedes have an impressive lead in the constructors championship with 325 points to Red Bull's 173. Lewis Hamilton heads the drivers standings with 190 points compared to his team mate Valtteri Bottas who is on 135, 25 ahead of Red Bull's Max Verstappen.
Hamilton and Bottas pulled off a 1-2 in last year's Russian GP, and Wolff is hoping that Sochi will prove a happy hunting ground again this year too.
"We're now heading to Russia, the first stand-alone event of the season," he noted. "Sochi has been a good circuit for us in the past and we hold a strong track record there."
The long run from the start to the first braking zone makes for a particular challenge to anyone starting from pole, who risks giving a slipstream to those behind him leaving him vulnerable on the first lap.
"The pole-sitter isn't necessarily in the strongest position for the race start as the cars behind him benefit from the tow," Wolff explained.
"You could see it last year when [Sebastian] Vettel overtook [Charles] Leclerc on the run down to Turn 2. And in 2017 when Valtteri beat pole-sitter Vettel from P3.
"Our qualifying pace has been really strong this year, but this strength could easily turn into a vulnerability on race day in Sochi," he warned.
And another potential portent is on Wolff's mind this weekend, as Sochi will see the team shadowed by the Netflix documentary team for the latest series of its Drive to Survive show.
"Last year they shadowed us at Hockenheim where we celebrated our home race and 125 years of motorsport and had our worst race of the season," Wolff pointed out.
"That made for a very entertaining Netflix episode, but we hope that this time we can have great content - and a great race!"
Gallery: The beautiful wives and girlfriends of F1 drivers
Keep up to date with all the F1 news via Facebook and Twitter