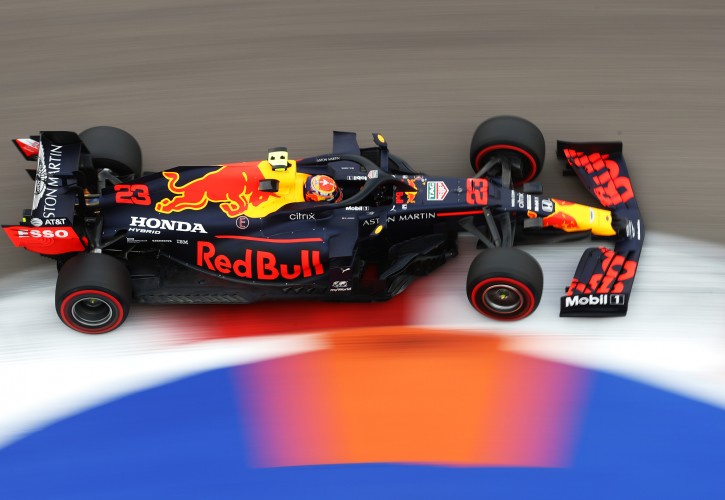 Red Bull's Christian Horner says Alex Albon's particular sensitivity to his car's characteristics was "accentuated" by Sochi's specific layout.
In qualifying and on race day, Albon's performance was no match for Red Bull teammate Max Verstappen who finished second in last Sunday's Russian Grand Prix, over 30 seconds ahead of the British-Thai racer.
Albon's performance relative to Verstappen has been inconsistent this season. However, a solid drive at Mugello that yielded his first career podium in F1 was seen as a breakthrough result that would perhaps spur on the 24-year-old.
Horner believes that Sochi's blend of long straights and big breaking zones proved challenging for Albon given his difficulties in getting to grips with Red Bull's RB16 chassis.
"Alex is particularly sensitive to some of the characteristics of the car," Horner said.
"He's struggling with that and they're accentuated at this type of circuit with short corners and big braking zones.
"Obviously there is plenty to look at for him. His second half of the race, he recovered reasonably well, but obviously it's been a tough weekend for him.
"So it was a shame, after the podium two weeks ago, that this one has probably been one of the hardest of the year for him."
Verstappen has also complained about the RB16's inconsistent behavior, although the Dutchman appears less impacted by the car's vagaries.
Horner said the Milton Keynes squad is still working on trying to make its 2020 car a more predictable and efficient proposition for both its drivers.
"I think we've understood some of the issues that we've got with the car," added the Red Bull chief.
"Obviously we are working hard to address those. And I think hopefully in the remaining races, we should be able to, I hope, take steps that will improve the car in that area."
Gallery: The beautiful wives and girlfriends of F1 drivers
Keep up to date with all the F1 news via Facebook and Twitter