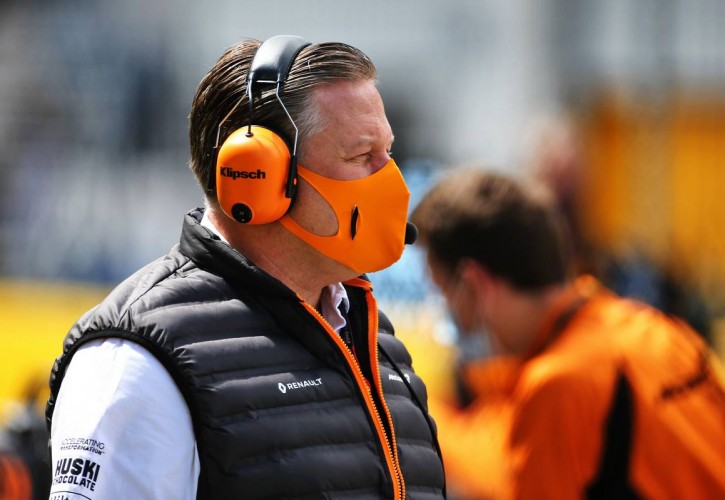 Zak Brown has 'big aspirations' for McLaren in the future, the racing team's chief executive hoping to one day reap success across the board in Formula 1, IndyCar and at Le Mans.
Since taking the reins of McLaren in 2016, Brown has extracted the Woking-based outfit from troubled waters in F1 and put it back on course to reach the winner's circle.
But Brown also guided McLaren back to the US racing scene, forging an alliance with Schmidt Peterson Motorsports to compete at the forefront of the IndyCar series.
Brown's ambitions for McLaren extend beyond motorsport's premier single-seater series and include an eventual presence in sportscar racing, with a successful return to LeMans envisaged at some in the future.
"There is no team I enjoy more than McLaren, and I love we're in Formula 1, IndyCar, I'd love to see us get back to sportscars," Brown revealed in Formula 1's latest Beyond The Grid podcast.
"So my dream would be the Formula 1 World Championship, Indy 500, IndyCar Championship, Le Mans and we can do all of those things at McLaren but that'll probably take 20 years, so I've got big aspirations."
"I'd like to be the first team boss to win the triple crown, I've got to blame Fernando [Alonso] for that."
Many anticipated Brown's tenure at the head of McLaren to be cut short given the team's difficulties in pulling itself out of its depression, sparked by its ill-fated relationship with Honda.
But the team's turnaround in the wake of an extensive managerial, technical and operational overhaul has solidified the 48-year-old's position as McLaren's top man. And Brown hopes to hang on to the reins for decades to come.
"I can definitely see myself being at McLaren for decades," said Brown.
"I did my old company JMI for 23 years, I'm four years into this, it kinda feels like yesterday.
"I'm 48-years old and I'm one of those like Bernie [Ecclestone], like Ron [Dennis], like Frank [Williams] who are gonna work until they're 70, 80 years old.
"It means I can do this for another 20 plus years."
Gallery: The beautiful wives and girlfriends of F1 drivers
Keep up to date with all the F1 news via Facebook and Twitter