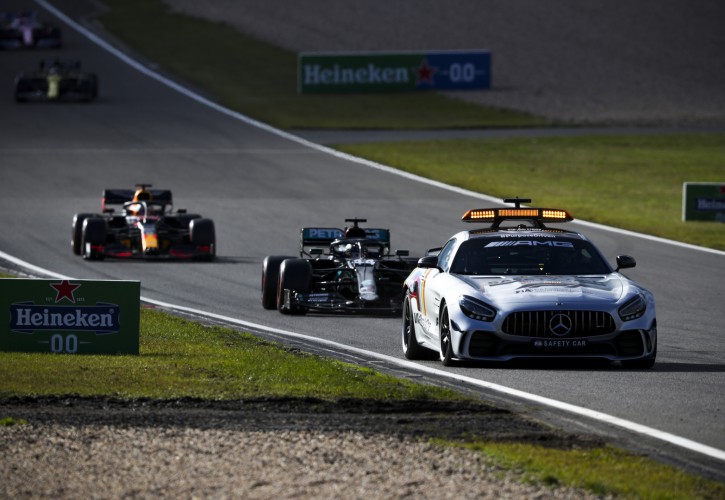 Mercedes boss Toto Wolff and chief strategist James Vowles have different views on the usefulness of the team's dual-axis steering (DAS) in the Eifel GP's cold environment.
The cold conditions that prevailed at the Nürburgring last weekend, with ambient temperatures of approximately 8°C, meant that drivers were challenged to preserve the heat in their tyres at several points during the race.
The DAS system that allows Mercedes' drivers to change the toe-in angle of their car's front wheels should have theoretically come in hand to help maintain tyre temps, but Wolff minimized the device's role insistent it did not offer a significant edge as a tyre warming instrument.
"You can see that the Red Bulls, Max particularly, were very good in sector one," Wolff said.
"So their warm-up and whatever they did was better than ours, but over a lap obviously we gained the time back.
"The DAS helped a little bit. It's not the game-changer, the silver bullet like everybody believes. But it is a good tool to keep a little bit more heat in the front."
Interestingly, Vowles offered a different assessment of the DAS system's efficiency in terms of generating or maintaining heat in the W11's tyres.
"In terms of where we used it in the race it was on the formation lap, but also when we were behind the Safety Car," said Vowles. "We had a number of laps circulating on tyres that were just getting colder and colder.
"I think it is fair to say DAS was a contributing factor to why our restart was so good and it really came into its own this weekend."
Hamilton admitted after the race that he had struggled to instill heat into his tyres, especially when following the safety car that was purposefully pacing itself to allow the field to regroup.
"The tyres were not working for me, particularly when I came out after the pit stops," commented the Briton.
"I had a good gap to [Max] but then [he] nearly had me, [he was] catching me and I was struggling so much on the newer tyres.
"Then we got the safety car. I don't know why it goes so slow, but maybe it's because everyone has got to catch up, whatever it was."
Gallery: The beautiful wives and girlfriends of F1 drivers
Keep up to date with all the F1 news via Facebook and Twitter