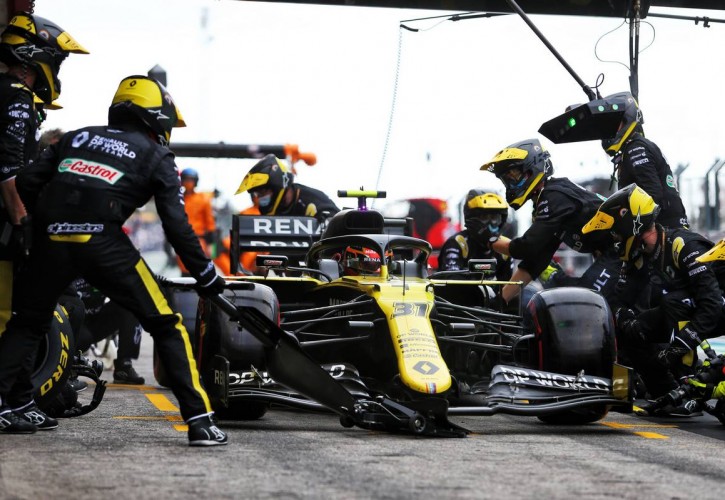 Esteban Ocon outpaced Renault teammate Daniel Ricciardo for the first time this season, the Frenchman gaining an edge over the latter in the Portuguese GP thanks to a 53-lap first stint on the medium tyre.
Ocon's return to F1 action with Renault this season after a year on the sidelines hasn't been an easy affair, with the 24-year-old struggling to qualify and race on a par with Ricciardo.
But Ocon has slowly been inching closer, his progress also helping Renault in its tight battle for third place in the Constructors' championship against Racing Point and McLaren.
On Sunday, at the Autódromo Internacional do Algarve, Ocon laid the ground for Renault's double points finish by running a massive 53 laps on Pirelli's medium.
"It was good fun that race," said a visibly happy Ocon. "We managed the tyres really well with the team, good communication.
"We did 55 laps [53] on the same set of tyres, we pitted because we had to!
"It was very, very hard at the start to start on the mediums. There was a big advantage with the softs, so I lost a lot of positions.
"But I stayed calm, remained calm and we decided to keep going with the team, and the more we were going, the better it was so that was very, very good."
For the better part of 20 laps, Ocon enjoyed a spirited battle for fifth with Sergio Perez, gaining the upper hand on his former Force India teammate before his mandatory pit stop pushed him back down to P8.
"That was very positive, obviously the fight with Perez. I wanted to let him go because we were losing time overall. It was very tight but very nice.
"After that we lost a bit of time on the pit stop, but the guys have done a great job the whole year.
"Overall to get two cars in the points like we did today on a difficult weekend for us, I think it's very solid and it shows that we can perform even when the car is not at its best."
While strategy allowed Ocon to outpace Ricciardo, the Frenchman believes he is slowly but surely inching closer to Ricciardo.
"It's good obviously," he said. "I'm happy to be in front of him. I'm coming closer and closer to him, so it's feeling great recently."
Gallery: The beautiful wives and girlfriends of F1 drivers
Keep up to date with all the F1 news via Facebook and Twitter