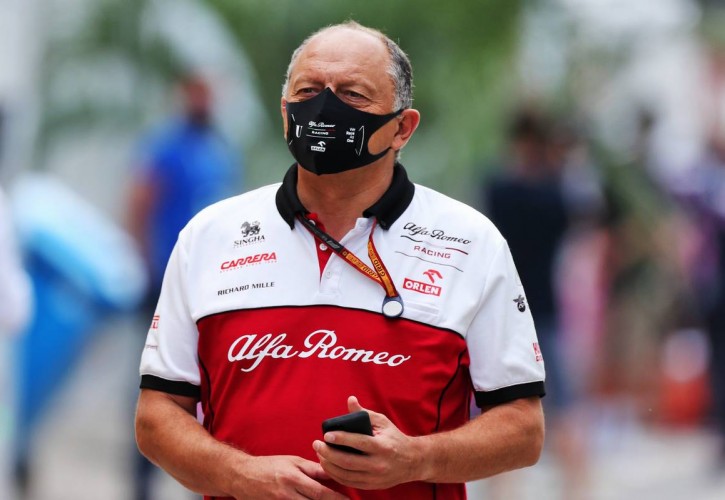 Alfa Romeo team boss Frederic Vasseur wants his troops to not lose sight of "the objective at hand" as the Swiss heads into the final three races of the 2020 season.
Alfa is currently P8 in the Constructors' standings, with virtually no chance of improving its position. However, the Hinwil squad's depressed tally of 8 points could easily be surpassed by its followers Haas and Williams.
With several million dollars of prize money at stake depending on the trio's final place in the pecking order, Vasseur is urging his team to focus its attention on the upcoming rounds at Sakhir and Abu Dhabi rather than mentally write off its disappointing campaign and switch its attention to 2021.
"The final stretch of the season is here: it's a crucial triple-header and there's still everything to play for," said the Frenchman ahead of this week's Bahrain Grand Prix.
"Of course, after such an intense year everyone is starting to feel a bit of fatigue and, with next season just around the corner, the temptation would be to look to the future already and lose sight of the objective at hand, but we cannot underestimate the task ahead of us in these final three races.
"We have shown in Turkey, with both Kimi and Antonio qualifying in the top ten, that we are moving upwards, and the run we had in the second part of the season, scoring in half the events we took part in, gives us confidence we can keep performing well.
"Bahrain is a track that promotes good racing and the novel layout for the second race is a big leap into the dark for all teams.
"We need to be prepared for everything, including a very messy qualifying session on the second week's very short layout, but I am confident we will be ready for the challenge."
Teams will venture a bit into the unknown when they tackle Sakhir's quasi oval layout next week, but Kimi Raikkonen isn't expecting any big surprises.
"We'll have a bit of everything in the next two weeks: we race on a circuit we all know so well, Bahrain, and then on a completely new layout we never used before," commented the Finn.
"Racing on a new track is something we have done quite a few times this season so by now I would expect all teams to have a tried and tested approach to this challenge and therefore I don't think we'll have big surprises.
"Still, it will be interesting to see how racing goes on a fairly unusual layout. In the end, we will adapt very quickly to whatever the situation is and try to get the most out of the race weekend."
Gallery: The beautiful wives and girlfriends of F1 drivers
Keep up to date with all the F1 news via Facebook and Twitter