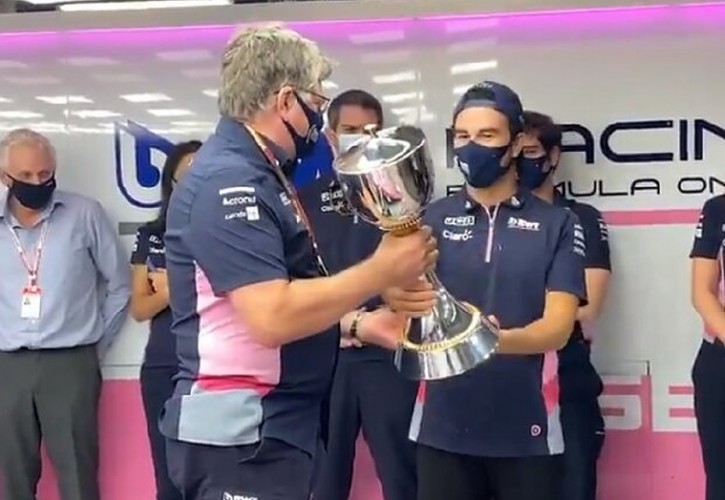 Sergio Perez endured a disappointing final outing with Racing Point in Abu Dhabi, but the after-race more than made up for the setback.
Perez retired after just eight laps at Yas Marina with an engine issue, a rather anticlimactic exit just one week after enjoying his maiden Grand Prix win.
But all wasn't lost for the Mexican who was given a proper send off by his team in the outfit's garage, packed with Racing Point's crews, a box presents and a special gift that honoured Perez's seven seasons with Team Silverstone.
In a special 'Behind the Scenes' video of the team's farewell to its driver, Perez was greeted with a warm round of applause before he addressed his soon-to-be former colleagues.
"Thank you everybody! It's been a pleasure to work with all of you," said the future Red Bull charger. "A lot of years, huh? I hope you guys miss me. I don't think you will," he joked.
Racing Point team boss Otmar Szafnauer then to the stand.
"We got you a couple of presents, and we wanted to say thank you for all the effort you put in, all the great racing we've had together, for our friendship and for being a part of the family.
"So we got you a lot of gifts."
Like most teams, Racing Point typically keeps the trophies won by its drivers, but Perez was awarded a special exception, with Szafnauer handing to the Mexican the precious - and memorable - piece of silverware won at Sakhir.
"You gonna give me my trophy?" he reacted. "No waaay!"
"So, I know you always try to steal them, then we gotta get them back and then you steal them…" said Szafnauer.
"I brought it back," mischievously responded Perez. "You left it at the restaurant!"
🎁 Leaving presents don't get much better than this...#F1 @SChecoPerez pic.twitter.com/iQKtkJGwSk

— BWT Racing Point F1 Team (@RacingPointF1) December 20, 2020
The 30-year-old was then given an assortment of gifts, including the steering wheel from his Sakhir GP winning RP20.
"These years mean to me a lot to myself my family," concluded Checo. Seven years is a lot of time that we share so many good, bad and great mementos and great memories that will stary with us forever.
So, as I always say you have a great friend in Mexico. Anytime you're there, give me a shout. Apart from you," as he pointed to Szafnauer.
Perze will open a new exciting chapter with Red Bull Racing next year, and one that will likely see him duel with Racing Point's 2021 chargers, Lance Stroll and Sebastian Vettel.
Gallery: The beautiful wives and girlfriends of F1 drivers
Keep up to date with all the F1 news via Facebook and Twitter