Lewis Hamilton says that Formula 1's unique 2020 season granted him more time to learn, to educate himself and ultimately to grow as a human being.
Hamilton's banner year saw the 35-year-old conquer his seventh F1 world title, an achievement that equaled the remarkable milestone previously set by the great Michael Schumacher.
But a late start to Grand Prix racing's truncated campaign due to the coronavirus pandemic and the periods of inactivity interspersed through the season have offered Hamilton productive moments of self-reflection and introspection but also opportunities to gain and learn in areas well beyond the realm of F1.
"This has probably been one of the biggest years of growth for me, because I have had more time," Hamilton said, speaking recently to selected members of the media.
"In the past you've gone from one thing to the next, you are always trying to keep up but you are always behind – on emails, on conversations, documentaries, whatever it may be. So the learning process is just a lot different.
"This year I have had time to really spend time on learning, on trying to educate myself the best I can. Who would have thought that at 35 years old that I would learn a lot more than perhaps I have in the past 10 years?
"We've gone to places and traveled around the world, and I definitely recognise that as a youngster I was less conscious of what's happening in the world. I wasn't watching the news as much, I wasn't up-to-date with things that are happening."
While Hamilton's expanded interest in the world's affairs raised his knowledge and discernment, it also took his activism on social media to the next level, spurred on by the events of last spring and the death of George Floyd.
Social injustice and racism were anything but foreign concepts for Stevenage's greatest son. But Hamilton's realization that his role model status could be put to good use and for the benefit of a worthy cause prompted him to make his voice heard louder.
"It's been such a difficult year for so many people, and there's so many negatives that have happened to people – losing jobs, businesses shutting down and people becoming homeless, and there's so much struggle that's happened," he said.
"But then I like to try to look at things always as glass half-full, and there's been so many positives that I hope we will be able to take into 2021. And part of that has been this learning process.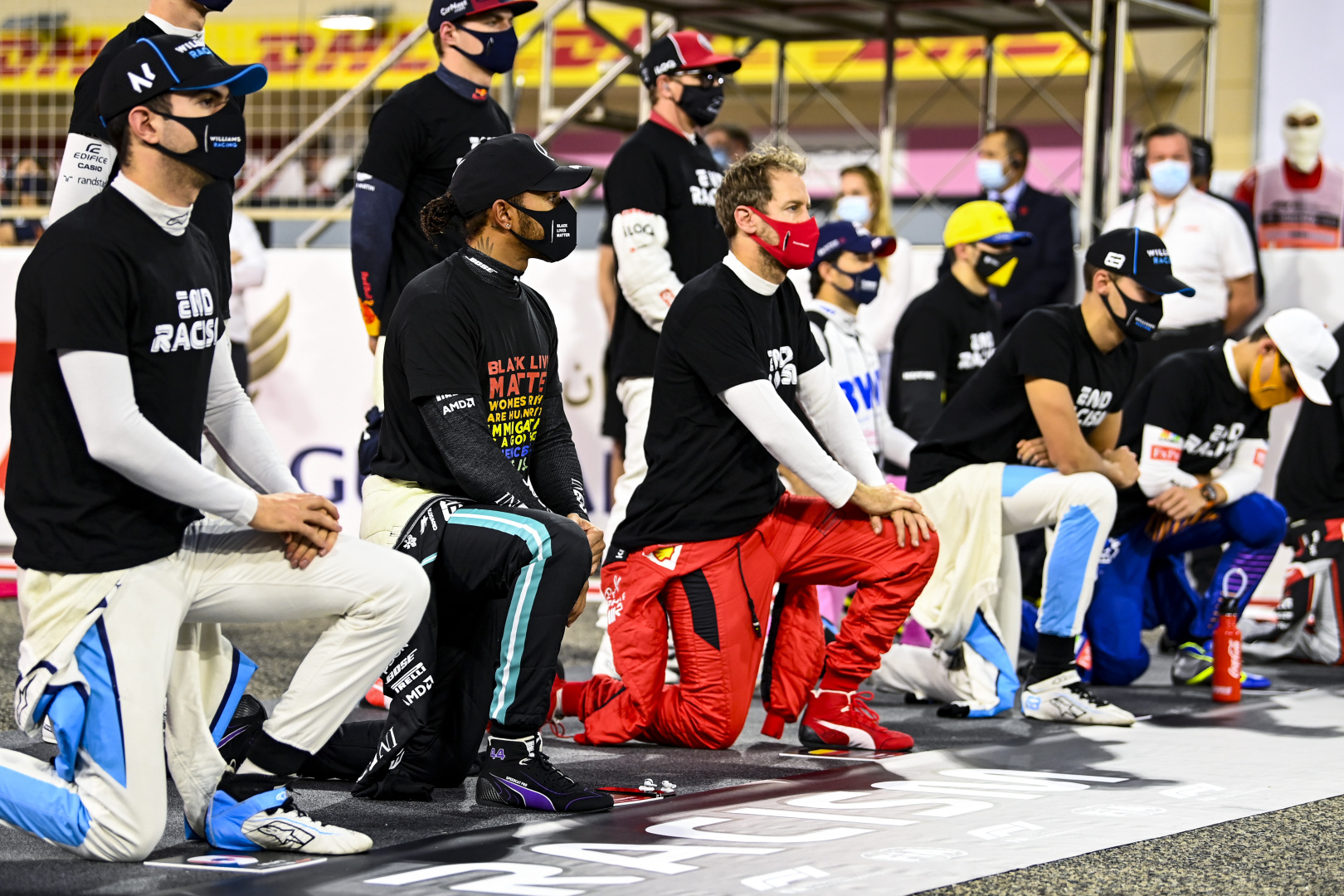 "I've felt that taking that step and really using my voice…There are so many people out there that have just stayed silent.
"I'm sure there's moments in you guys' lives that maybe you've kept your mouth shut just for a moment because you know that there's a bigger fight to fight further along, or something was at risk.
"And I think there's people out there, particularly kids, who will see so many who have been outspoken on certain issues this year, that this is a time to be more outspoken, this is a time to push for change."
Hamilton's very public stance on racism and social injustice generated an emotional wave of support, starting with F1 itself which initiated its pre-race anti-racism ceremonial this season at the behest of the Mercedes driver.
But the Briton was also criticized by those who felt that he was opportunistically - and quite arrogantly - jumping on a convenient bandwagon, or coercing F1 into putting a non-racing issue on its platform.
However, Hamilton insists his stance on racial injustice and push for diversity is here to stay, and it will remain at the forefront of his activism well after he crosses his final checkered flag in F1.
The Hamilton Commission he founded earlier this year to improve diversity in motorsport will represent the formal vehicle that will carry his message forward.
"There was a moment that I thought that when I leave, I want to leave on top and that will be it," he said.
"But what I've realised, particularly this year, is I have a responsibility to the F1 community for what it has helped me create, to push for that change.
"If I don't push forwards and make sure that this Hamilton Commission actually delivers, this sport is not going to be more diverse in the next five to 10 years. So I have got to stay on top of it, I've got to be engaged, I've got to continue to keep people on their toes.
"While perhaps some people would perhaps prefer that I didn't speak out in public and push for certain things, I think that's my responsibility. And getting this sport to be more diverse in the future, I 100% believe I could be a part of that change.
"Keeping these conversations going is holding people accountable, and I am not afraid of doing that, as you've seen. But if I don't do it, who is?
"Of course, it's not solely my responsibility. It's working with people and that's why I am super grateful to see a lot of these drivers taking the knee next to me and standing alongside me."
"I can't change everything and I'm only one person. It's gonna take all of us uniting to make things happen."
Keep up to date with all the F1 news via Facebook and Twitter