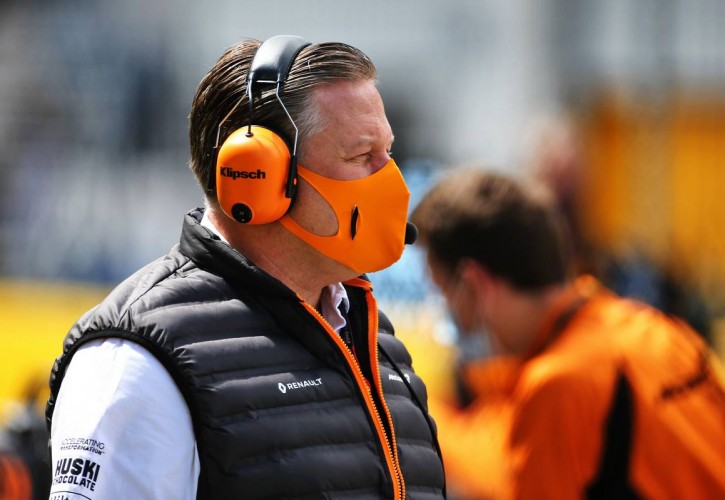 McLaren CEO Zak Brown says he expects to see a driver salary cap introduced in Formula 1 in the next few years, but says there would be issues extending it to wider team personnel.
"I think all team bosses are in favour of introducing the salary cap for the drivers," he told Motorsport-total.com this week. "I think they will introduce it in the next few years."
The sport is already introducing an overall annual spending cap of no more than $145 for all teams taking part in the world championship this year, dropping to $135m from 2023.
"Formula 1 had to change its financial profile in order to make the racing teams more sustainable," Brown explained. "That's what it is doing right now. You cut total expenses but still have flexibility in how you want to spend your money."
However the new spending cap doesn't currently include driver salaries. It has been reported that Lewis Hamilton's 2020 contract got him $76m from Mercedes compared to just $15m for his team mate Valtteri Bottas.
Meanwhile Sebastian Vettel took home $57m from Ferrari, Daniel Ricciardo was on $32m from Renault, and Max Verstappen was handed $26m by Red Bull.
Hamilton is yet to sign a contract for 2021 amid reports that Daimler are refusing to pay the driver that sort of money again, especially with George Russell - currently earning just $1.2m at Williams - waiting in the wings to take over at a cut-race price.
A figure of $30m for driver salaries has been mooted, although existing contracts would have to run their course first. "You have to acknowledge that some drivers have short-term contracts that are above budget, acknowledging Charles Leclerc's deal with Ferrari that extends to 2024.
But Brown said there would be problems if the sport tried to extend a salary cap to other team personnel, such as himself or a top talent such as Red Bull chief designer Adrian Newey or motorsports consultant Dr Helmut Marko.
"That was discussed too, and I think the teams agreed that the top three should also be included," Brown revealed.
"[But] I spend a lot more time on the commercial side of my job, which is not part of the budget cap," Brown explained. "I spend time with the IndyCar series, looking at other types of motorsport.
"And there are other technical employees in this sport who don't just spend their time with Formula 1," he added. "[Marko] looks after the youth programmes and AlphaTauri too, so how does he fit in?"
"In the 80s and 90s, Frank Williams always had the approach of spending the money on the racing car rather than the driver.
"Other teams wanted to spend the money on drivers because they thought they could make a bigger difference that way."
Gallery: The beautiful wives and girlfriends of F1 drivers
Keep up to date with all the F1 news via Facebook and Twitter