Max Verstappen topped the first day of pre-season testing in Bahrain, the Red Bull driver enjoying a trouble-free day of running at the wheel of the team's new RB16B, accumulating a total of 129 laps.
Verstappen was followed by McLaren's Lando Norris who clocked 0.215s behind the Dutchman, validating the Mercedes-powered outfit's good Day 1 performance at Sakhir.
Alpine's Esteban Ocon, the day's second most assiduous runner with 119 laps, ended the day P3 following a strong and consistent work session.
Although Mercedes was spared any further significant mechanical setbacks, it was still a bit of laborious afternoon for Lewis Hamilton who put 37 laps under his belt and ended the session P9.
Bahrain Pre-Season Test - Day 1 - Final
| Pos | Driver | Team | Time | Tyre | Laps |
| --- | --- | --- | --- | --- | --- |
| 1 | Max Verstappen | Red Bull | 1:30.674 | C3 | 139 |
| 2 | Lando Norris | McLaren | +0.215 | C3 | 46 |
| 3 | Esteban Ocon | Alpine | +0.472 | C4 | 129 |
| 4 | Lance Stroll | Aston Martin | +1.108 | P | 46 |
| 5 | Carlos Sainz | Ferrari | +1.245 | C3 | 57 |
| 6 | Antonio Giovinazzi | Alfa Romeo | +1.271 | C3 | 68 |
| 7 | Daniel Ricciardo | McLaren | +1.529 | C2 | 45 |
| 8 | Pierre Gasly | AlphaTauri | +1.557 | C3 | 74 |
| 9 | Yuki Tsunoda | AlphaTauri | +2.053 | C2 | 37 |
| 10 | Lewis Hamilton | Mercedes | +2.238 | C2 | 42 |
| 11 | Charles Leclerc | Ferrari | +2.568 | C3 | 59 |
| 12 | Kimi Räikkönen | Alfa Romeo | +2.646 | C3 | 63 |
| 13 | Sebastian Vettel | Aston Martin | +3.068 | P | 51 |
| 14 | Roy Nissany | Williams | +4.115 | C3 | 83 |
| 15 | Nikita Mazepin | Haas | +4.124 | C3 | 70 |
| 16 | Mick Schumacher | Haas | +5.453 | C2 | 15 |
| 17 | Valtteri Bottas | Mercedes | +6.176 | C2 | 6 |
Drivers returned to action after a short lunch break but were greeted by more elevated winds and gusts of sand that painted a rather murky picture of Sakhir.
A raft of changes were noted, with Hamilton, Norris, Stroll, Sainz, Tsunoda, Giovinazzi and Mazepin taking over from their respective teammates.
The seven-time world champion and his team were banking on a trouble-free afternoon of running following the gearbox issues that ruined the opening part of Mercedes and Valtteri Bottas' day.
At the outset, the session equated to a sand-gathering exercise, with drivers slip-sliding in several corners as on a rainy day. The lack of grip made for good entertainment, but few were likely enjoying the dusty and slippery conditions.
Just short of the one-hour mark, Hamilton put it in gear and got his afternoon going, but the Briton had no intention of lighting up the screens anytime soon.
Over at Aston Martin, Lance Stroll suffered a tardy start to his session after an issue kept the Canadian consigned to his garage.
Whether track conditions were improving or whether Red Bull were gaining ground with their RB16B, a tidy hard tyre shod Verstappen jumped to the top of the timesheet, setting a new benchmark time of 1m31.42s that eclipsed Daniel Ricciardo's morning best by 0.791s
Alfa's Antonio Giovinazzi also bettered the best performance set by teammate Kimi Raikkonen earlier in the day, the Italian vaulting up to fourth overall on the medium tyre behind Verstappen, Ricciardo and Gasly.
But the Italian was soon overhauled by a medium tyre shod Tsunoda who appeared to be closing in on the third fastest time set by Gasly in the morning.
Mercedes' laborious day continued to unfold as Hamilton was once again wheeled back into the team's garage, with crews resuming their work on the W12.
Over at McLaren, the team's new Mercedes-powered package continued its early form thanks to a good lap from Norris that positioned the young Briton P2, 0397s behind Verstappen.
While the performance was a 0.5s improvement over Ricciardo's morning best, the cooler late afternoon conditions were to be factored into the mix.
Meanwhile Hamilton was rolled out again, the seven-time world champion peeling off a few laps and clocking in 9th on the C2 compound, a second and a half off Verstappen.
With approximately 90 minutes to go, Alpine's Esteban Ocon was the first driver to break the 100-lap barrier, a testimony to the French outfit's consistency and reliability. Verstappen followed suit, also crossing the century mark.
As the sun set, Bahrain's flood lights took full effect, as did Ocon's set of soft rubber, allowing the Alpine charger close within 0.214s of Verstappen's best.
But with less than an hour to go, the Dutchman lowered his own benchmark to 1m30.674s, putting him 0.952s out of reach. However, Ocon's second run on the softs reduced the gap to 0.472s.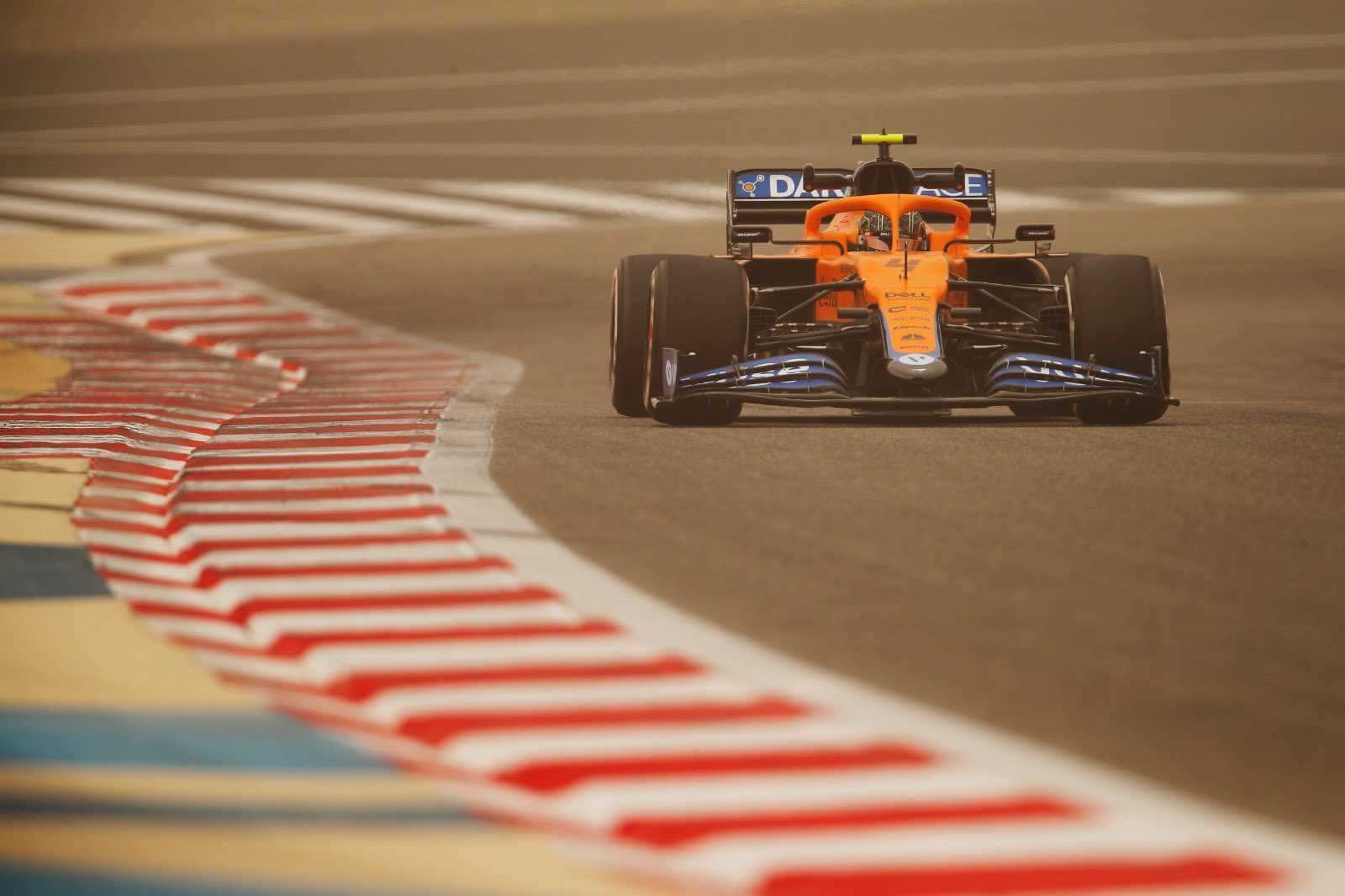 However, Norris lit up the time screens when he inserted his McLaren between his two rivals with a 1m30.889s on the C3 tyre.
But the relentless Verstappen remained out of touch in the final 15 minutes of the session, allowing Red Bull to conclude its opening day in Bahrain at the head of the pack.
Worthy rivals McLaren and Alpine, with Norris and Ocon, lined up P2 and P3, while a late but solid charge by Stroll on Pirelli's 'prototype' C3 tyre propped up the Aston Martin driver to fourth, 1.08s behind the day's pace setter.
Carlos Sainz improved Charles Leclerc's morning performance to settle Ferrari in fifth, just ahead of Alfa's Giovinazzi who impressively rounded off the top six.
Closing out the top ten, Hamilton might have been consoled by the fact that he enjoyed a better session that Bottas but Mercedes' engineers will be pouring over the data seeking how to approach tomorrow's work load and solve its early struggles.
Gallery: The beautiful wives and girlfriends of F1 drivers
Keep up to date with all the F1 news via Facebook and Twitter