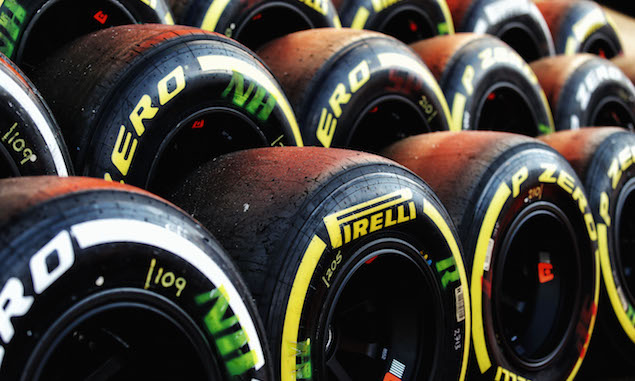 Pirelli is working with Formula One Management [FOM] to try and ensure fans have live updates of the tyre choices available to drivers in 2016.
New regulations have been brought in ahead of this season which are designed to lead to more varied race strategies. As opposed to two mandatory compounds as in 2015, this year teams can select tyres from three compounds, with complete freedom to pick ten sets. The remaining three sets are made up of the softest available compound and two different compound sets for the race.
With drivers only needing to run one of the two sets Pirelli nominates for the race there are likely to be a wide variety of options available throughout a grand prix and racing manager Mario Isola says it hopes to display them to fans on screen.
"We have all the data because we have a system which is integrated with FOM and it is the system that is sending all the information to the television," Isola said. "So we are working together with FOM to give the information live during the races so every spectator can understand what is going to happen.
"I think it's also very useful for the media to know exactly which is the situation and which is the strategy. With the new regulation they have not only three compounds but the ability to choose ten sets out of the 13 so I hope we are going to see different strategies and more interesting races.
"To do that you need the information, you need to know which are the tyres that each driver has available in the garage and we are working together with FOM to provide this information live.
"It is similar to last year when they knew whether it was the prime, the option, the soft, the medium or whatever. And you had the colour coding on the tyre so there is the new ultrasoft with the purple label and the other four compounds are keeping the same colours so at any moment during the race you know exactly the compound which is fitted on each car."
And Isola says it is Pirelli's duty to make sure the complex new regulations are easy for fans to understand in a race situation.
"I believe that our job is to provide the information. So when they start the race they usually have six sets available and we need to give the information which are the six sets.
"Then when you have a pit stop you cross off the set which was used and then you know exactly which are the tyres available and then you can start thinking 'OK, maybe the last stint will be on the softer tyre, the harder tyre or whatever'. This is the important information we have to release live during the race."