Former Renault driver Jarno Trulli, who spent two seasons alongside Fernando Alonso at the Enstone squad, says the Spaniard is a "political" animal who wants "all the attention" centered on himself.
Over the years, Alonso has built himself a bit of a reputation as a political troublemaker, although it would be unfair to label the two-time world champion as someone who seeks to stir up trouble for the sheer enjoyment of it.
Trulli contends that during their time together at Renault in 2003 and 2004, the seasons that preceded Alonso's two championship years, his teammate indulged in mind games for the sake of drawing the team's attention to himself in a bid to gain an advantage.
And the Italian, speaking on the latest episode of F1's 'Beyond the Grid' podcast, believes the 39-year-old has not changed his modus operandi over the years.
"Yes, Fernando is one of those drivers which play mind games and [are] political in the team," said Trulli, who conquered his single F1 win with Renault at Monaco in 2004.
"He is a driver who wants to be at the top of the team and the number one, so I don't blame him. I always preferred to prove myself with results rather than politics. That was one of my mistakes.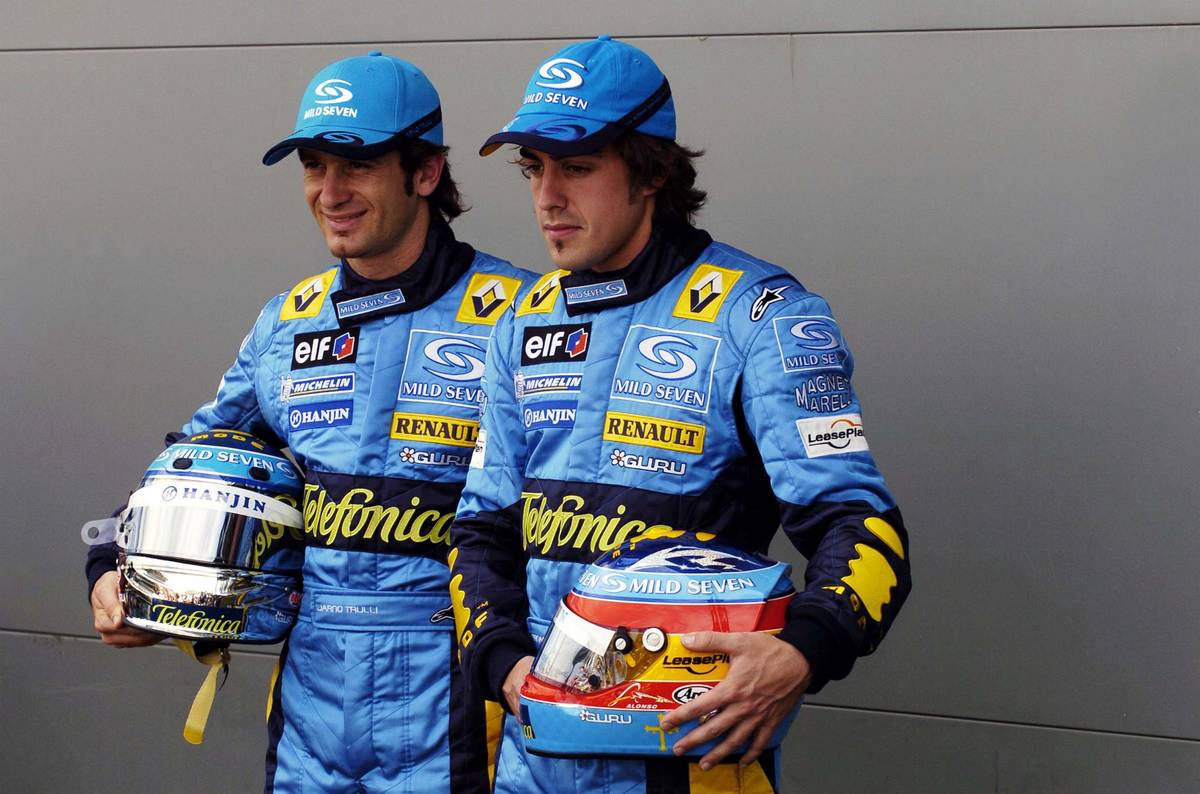 "He always tried to get the best out of the team, and politics inside the team for himself," he continued.
"He always tried to centre the attention around himself, and you have to expect this from a top driver anyway because a top driver always thinks he is the best.
"He wants to get the best and wants all the attention for himself."
On the track, Trulli witnessed up close Alonso's undisputable talent which complimented his political skills. Although the Italian was challenged and dominated by his teammate, he also appreciated working alongside him.
"I must admit I always had very good team-mates – Jenson Button, Fernando, Frentzen, Olivier Panis," he added. "For sure, Fernando had something more special than the others.
"It's not fair to say he was better than the others, but from Fernando you can always expect something special.
"It was a pleasure for me to drive and work with him. It's still funny for me to see him in Formula 1 this year, but definitely he was one of the best and he proved it."
Trulli says he recently encountered Alonso who came across as a man still driven by a burning ambition. But the 46-year-old former F1 driver who retired in 2011 believes the Spaniard will only be as good as the equipment supplied by Alpine.
"I was talking with Fernando recently," he added. "I saw him one-and-a-half to two months ago, we met in Barcelona because we were testing with my son. We spent half an hour chatting and he is still passionate about what he is doing.
"Fernando is still eager to drive. He has nothing else in his mind rather than driving. I can't see him failing in what he will be doing.
"The big question mark is not probably how good will be Fernando. The real question mark is how good will be his car, in order to put Fernando in the position to fight for the top because I have very little doubt about Fernando as I see him still being extremely motivated.
"So let's cross our fingers and hope Renault can deliver a good enough car to give Fernando the chance to enjoy grand prix racing in 2021."
Gallery: The beautiful wives and girlfriends of F1 drivers
Keep up to date with all the F1 news via Facebook and Twitter