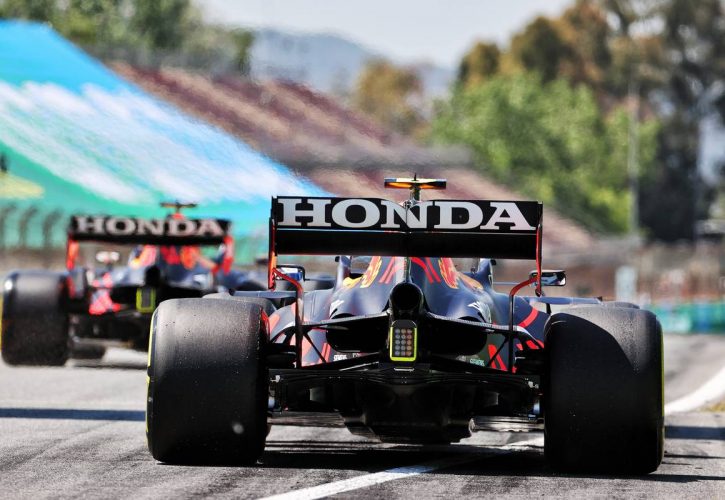 Red Bull team boss Christian Horner says he was surprised by Lewis Hamilton's comment alleging that the Milton Keynes-based outfit is using a flexible rear wing on its RB16B.
Hamilton alluded to the aero appendice after Saturday's Spanish GP qualifying, noting the speed of the Red Bull cars down the Circuit de Catalunya's main straight.
"The Red Bulls are really fast on the straights," he told Sky F1. "They have this bendy wing on the back of their car which they put on today and they gained at least three tenths from this wing."
Although teams have resorted in the past to flexible wings as a way to sustain downforce levels in the corners while reducing drag on the straights.
But the ploy is closely monitored by the FIA which relies on deflection tests to ensure the limited flexibility of wings under load.
Horner revealed that Mercedes boss Toto Wolff had approached him about the issue, and suspects that Hamilton's remark was sourced from the Austrian.
"I saw the comments," said Horner. "Of course the cars are scrutineered thoroughly and there's pull back tests, and there's all kinds of different tests it has to pass.
"The FIA are completely happy with the car, that it has passed all of those tests that are pretty stringent.
"So I was surprised to see his comments on that. But it's something that Toto has mentioned to me previously. I doubt it was Lewis' opinion, so probably came from elsewhere."
Questioned in Barcelona about Red Bull's "bendy wing" and whether he believed it was regulatory concern or not, Wolff evaded the topic.
"Yeah it's good fun," he said. "Yeah, we discussed it. But… everybody's… no, let me not comment. Sorry."
Gallery: The beautiful wives and girlfriends of F1 drivers
Keep up to date with all the F1 news via Facebook and Twitter