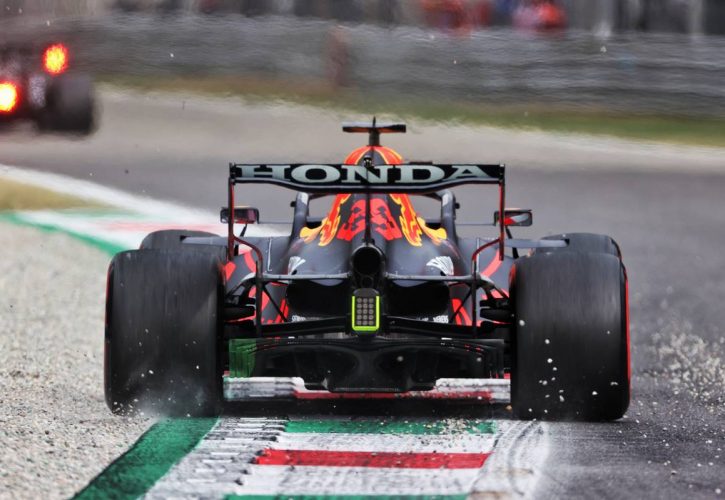 Honda has revealed that Red Bull's Max Verstappen has been running since Spa an engine fitted with a new-spec energy store, or battery, that has boosted the performance of Red Bull's RB16B.
The Japanese manufacturer introduced at the start of the 2021 season a new power unit that featured a heavily revised internal combustion engine.
Although F1's regulations forbid manufacturer's from upgrading their hardware during the season, Honda's unit was still fitted with a 2020-spec battery. It was therefore allowed an in-season update of its energy store which was subsequently implemented in Belgium.
Honda extended the upgrade to Sergio Perez's Red Bull at Zandvoort, which justified the Mexican's pitlane start, while AlphaTauri's Pierre Gasly was also the recipient of the new energy store in similar circumstances at Monza.
The new energy store, which has undergone years of development, was initially scheduled to be introduced in 2022 but its installation was brought forward by a year along with Honda's new ICE following its decision to exit F1 at the end of 2021.
The new battery enhances the performance of the Honda engine but also delivers a "significant" reduction in weight according to the manufacturer which in turn improves a car's weight distribution.
"This new ES has been developed in a project that has taken several years, with an aim to combine improvements in energy efficiency with significant reductions in weight," explained Honda F1's Head of Power Unit development Yasuaki Asaki.
"In what will be the company's final season in the sport, Honda F1 has managed to introduce the new ES – fitted with a lighter, low-resistance, highly efficient and ultra-high power battery cell – just in time for the start of the second half of the season.
"In order to achieve the ultimate goal of defeating Mercedes and winning the championship before leaving F1 at the end of the 2021 season, we recognised the need to enhance performance.
"As such, the development plan for the new ES was brought forward substantially from the original goal of 2022 to introduction during the 2021 season."
Red Bull will partially take over Honda's power unit program from next season before a full appropriation in 2023 that will run until the end of 2025 or 2026, depending on the timing of the introduction of F1's next generation power unit.
"Even after Honda leaves F1, this new battery technology will contribute hugely to Honda's future technology to create a carbon neutral society, lead the advancement of mobility and enable people everywhere in the world to improve their daily lives," concluded Asaki.
Gallery: The beautiful wives and girlfriends of F1 drivers
Keep up to date with all the F1 news via Facebook and Twitter