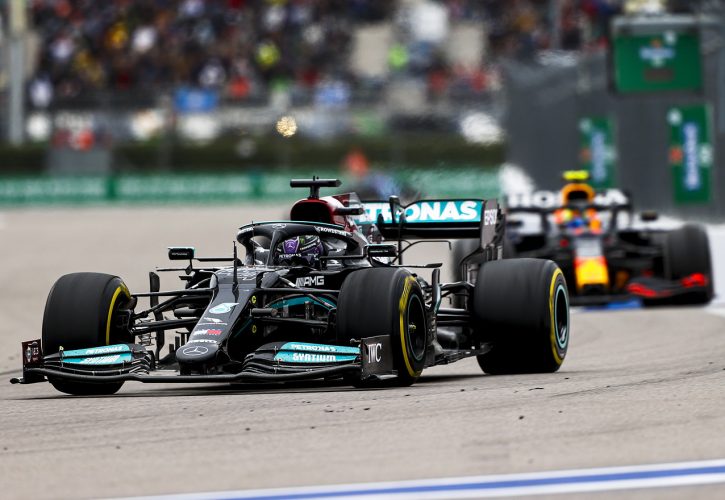 Toto Wolff says Mercedes will continue to follow a "really aggressive" approach to its title fight with Red Bull as neither team is maximizing its points scoring.
Lewis Hamilton scored his 100th F1 win in Sochi, a feat that allowed the Briton to recapture the lead from archrival Max Verstappen in the Drivers' standings.
But the Dutchman's remarkable run in Russia from last on the grid to second at the checkered flag means that Hamilton only enjoys a two-point advantage in the championship ahead of F1's next round of racing next week in Turkey.
While Mercedes' edge over Red Bull in the Constructors' standings extended to 33 points after Sochi, Wolff admitted that the fine margins and the ebb and flow between the two teams will force the Brackley squad to keep on pulling out all the stops at each race in the back half of the 2021 season.
"In a way, we're not maximising our points scoring, and the same today," Wolff said after Sunday's race.
"I think quali was all decisive. Valtteri going back [after an engine penalty] we knew was difficult, and we ended up with a first and fifth, and that is very good, no doubt about that, and it's Lewis's 100th victory.
"But Max recovered in a spectacular form, and that is not good for the championship.
"So, in a nutshell, we just need to continue to be really aggressive in how we approach this season, not be defensive, but just move forward, in order to score these big points
"Because neither us nor the others are really good in maximising the points at the moment."
On paper, Monza and Sochi were seen as indisputable strongholds for the Mercedes team. But Wolff insists that this year's regulation changes have rendered futile projections based on past statistics.
"I stopped trying to anticipate whether it's historically a strong race for us, because everything with the new regulations, everything changes, so has changed so much," explained the Mercedes boss.
"Definitely, we knew that Monza and Sochi would be coming more towards us. And the reality is we are where we are, and this is the points gap and I doubt that any of the two teams will make massive swings up or down.
"It's just about, really, to continue to do the best possible job."
Gallery: The beautiful wives and girlfriends of F1 drivers
Keep up to date with all the F1 news via Facebook and Twitter