Arrow McLaren SP IndyCar charger Pato O'Ward, who will test for McLaren at the end of the season, can't deny his interest in one day switching to Formula 1.
O'Ward was promised an F1 test by McLaren Racing boss Zak Brown if he achieved a win this year in the NTT IndyCar Championship. The 22-year-old Mexican went one better and delivered two victories in the series with AMSP, finishing third overall in the championship.
O'Ward, who underwent a seat fitting at Woking last week, will therefore roll out onboard a current-spec McLaren at F1's post-season test in Abu Dhabi in December.
Brown said that he would assess O'Ward's performance after his test at Yas Marina, but regardless of the outcome, the McLaren boss made clear that IndyCar must remain the Mexican's absolute priority.
But that won't prevent the talented young charger from keeping F1 in his dreams.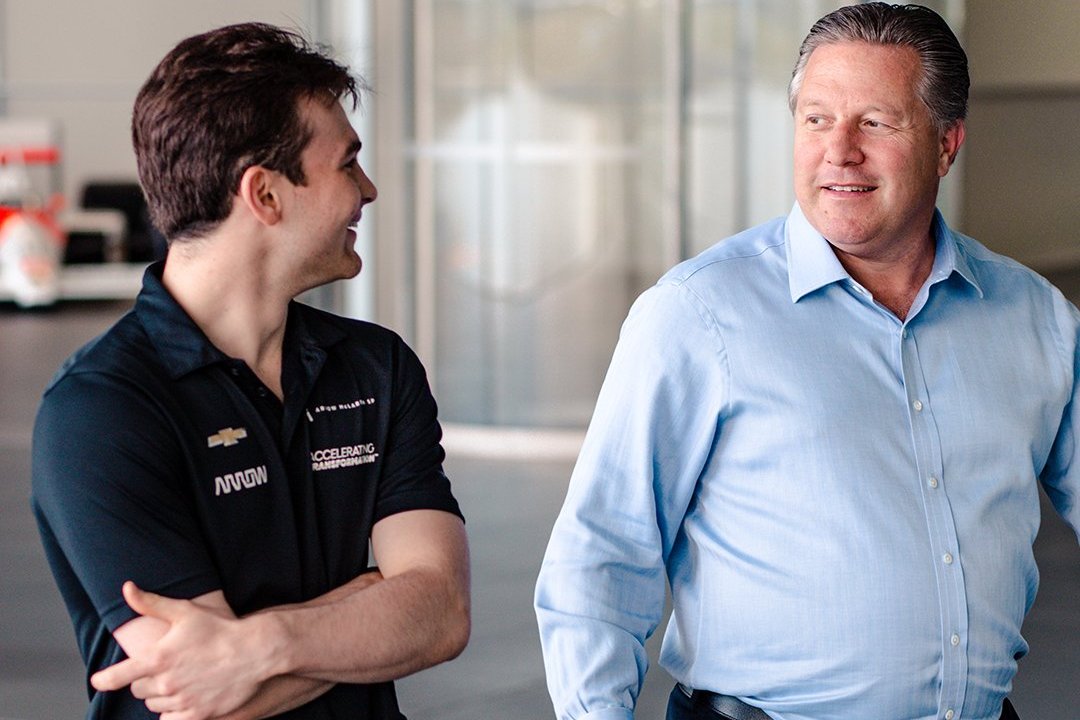 "I'd be lying if I said it wasn't," O'Ward told Motorsport.com at Woking when asked about his interest in F1.
"Every kid grows up with the same dream, and that same dream is always Formula 1. And if they say it was something else, it's a lie, because it's Formula 1.
"Right now I'm so focused on doing the most perfect job that I can in IndyCar. I want to give this team the championship that they deserve. I want to give them an Indy 500.
"And in the future, if it's something that fits with both of us, of course I'd take a drive in Formula 1.
"Because it's Formula 1, man! It's the top of the top in terms of technology and they are the fastest race cars in the world."
O'Ward's efforts are geared towards winning the title in IndyCar with Arrow McLaren SP and snatching its crown jewel: a victory at the Brickyard in the Indy 500.
But the Mexican sees McLaren as his long-term home in motorsport and a team to which he would love to bring success in all of the manufacturer's arenas.
"Once we achieve all of those goals, I'd be lying if I said I didn't want to bring those same objectives or goals to their European side," O'Ward said.
"It's definitely a dream that I want to win the championship in IndyCar. I want to win the 500.
"Later on, if it's something that fits both of us, that elusive world championship win. At the end of the day, I feel it would really complete our relationship.
"That's in a perfect world, that's my chart. I want to win everything together with McLaren."
Regardless of what the future may hold, O'Ward says that if he was given a chance to become a Grand Prix driver, he would tackle F1 with the strongest commitment and with the ambition of becoming one of its top contenders.
"It wouldn't be just to experience it," he added. "If I do the switch, I'm coming to win and compete.
"Just like I told everybody in IndyCar, ever since the first year. I understand we didn't get our first win, but we were there fighting for wins, and we got many podiums.
"I'm too competitive just to be like, 'oh, it's cool'. No, I want to be one of the top dogs in anything that I'm doing, because that's just the nature of us, the nature of me and of the team.
"That's the one goal that everybody puts in so many hours for and so much sacrifice. That's definitely what is on my bucket list."
Gallery: The beautiful wives and girlfriends of F1 drivers
Keep up to date with all the F1 news via Facebook and Twitter