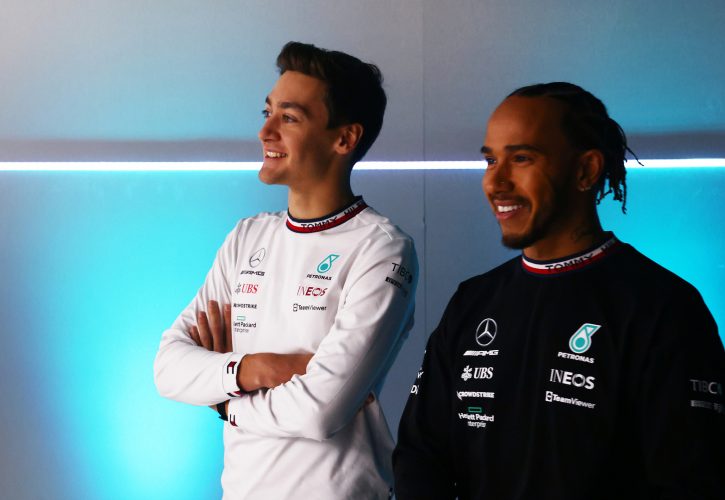 New Mercedes driver George Russell was thrilled to finally get to see the team's 2022 car unveiled before the world media this week, and gave it an enthusiastic thumbs-up.
"It feels incredible," he beamed. "Obviously Lewis and I have driven so many laps in the simulator of this. We've seen all the drawings, we've had so many meetings and presentations about it.
"But suddenly seeing it all come together, seeing all of the men and women who have put so much hard work and grit into making this, and coming together here, I think it looks incredible."
Russell also liked the return to the traditional Mercedes silvery livery after two seasons sporting an all-black design in support of anti-racism campaigns.
"We've had an incredible livery with the black in the past couple of years, but the silver back on track I think is going to look incredible."
It's been a landmark week for the Briton, who turned 24 the day before he rolled up to the Mercedes factory at Brackley for his official seat fitting ahead of Friday's launch of the team's new W13 contender.
Not that he's any stranger to the team. He originally joined the Mercedes Young Driver Programme at the start of 2017, the same year that he clinched the GP3 championship with ART.
The following year he won the Formula 2 title and sealed his promotion to the F1 grid with Williams Racing. And in 2020 he made his race debut for Mercedes at Sakhir, sitting in for Lewis Hamilton who had tested positive for coronavirus.
At the 2022 launch, his long history with the team was marked by a number of old photos of his progression through the ranks - including a shot of a baby-faced Russell alongside the same world champion who is now his team mate and peer.
"We've definitely seen that both of them have improved since the photo!" quipped Wolff at the sight of the pair from so long ago and looking so young, adding: "I think Lewis okay, but definitely George."
However Russell wasn't taking that lying down, and shot back: "We've got better since then, but I don't know about you!" to which Wolff could only respond by saying "That's one point for you. I will pay you back today!"
While most of the attention on Friday was on Hamilton, Russell was clearly enjoying having finally arrived at his dream role in F1 after three seasons and 59 race starts with Williams.
"George is just getting on with the job," said Wolff. "I know he's had a good winter of training and we've seen him in the factory, working on the simulator and with his engineers.
"This team has always been his home and therefore the transition to driving for us has been very smooth," he added.
One potential problem for Wolff is how to manage his two drivers, with things unlikely to be as peaceful and cordial as they have been over the last five seasons between Hamilton and Valtteri Bottas.
But Wolff is adamant there will be no return to the bad old days of Hamilton's acrimonious partnership with Nico Rosberg which took things almost to breaking point in 2016.
"I have no doubt that we can create an environment of partnership between the two, of productivity to develop this new car which will be essential whilst maintaining a healthy competition that will motivate them and the wider team."
Mercedes will undertake a short shakedown at Silverstone today, Storm Eunice permitting. Russell and Hamilton will share driving duties, with total running limited to 100km.
The first real test of the W13 will come next week at the first official pre-season test of 2022 at the Circuit de Barcelona-Catalunya.
Gallery: The beautiful wives and girlfriends of F1 drivers
Keep up to date with all the F1 news via Facebook and Twitter