The FIA has officially detailed the changes to Jeddah's street circuit ahead of this weekend's Saudi Arabian Grand Prix.
F1 drivers were largely enthusiastic about the Kingdom's new venue upon their first visit to the country last December.
However, ahead of the inaugural event, concerns were expressed by many over the lack of visibility in various sectors of Jeddah's track which features a string of fast sweeps and blind corners.
Unfortunately, those worries panned out in the race, with several unsighted drivers, including Williams' George Russell, caught out by an incident triggered into Turn 3 on the second restart.
Sight lines have therefore been improved around the track while a reprofiling of Jeddah's final Turn 27 - where Max Verstappen crashed in qualifying - has led to the corner being widened by 1.5 metres on its exit.
After conducting his track walk on Thursday and getting a look at the changes, Bahrain Grand Prix winner Charles Leclerc wasn't sure the changes would lead to much of a difference compared with last December's event.
"It depends on how much traffic we have and this often depends not only on the track but also on the drivers," said the Ferrari charger.
"This we'll have to wait and see. But I don't see the changes made doing a huge difference to the scenario of last year.
"It's going in the right direction, but I don't think it's enough. Especially in the last part of the track, from what I've seen.
"But the first part from Turn 4 to Turn 12, it didn't change much what was probably the most critical part. Let's see tomorrow how it feels in the car but I don't think it's a massive change."
The FIA's detailed changes to the Jeddah Cornich Circuit:
-The left-hand side barriers in Turns 2, 3 have been moved back to improve visibility from Turn 2 to Turn 4.
-The barriers at the apex of Turn 14 and Turn 21 have been moved back 1.5m.
-A smooth face has been added to theconcrete barriers at the Apex of Turns 4, 16, 22 and 24.
-In Turn 27 the track has been widened to 12m.
The revisions to Jeddah's track will lead to even quicker lap times for this year's race, highlighting a driver's judgement and precision around the 6.174km layout lined with concrete walls.
Regarding DRS, no changes have been made since last year's first race, with drivers relying on their Drag Reduction System in the same three zones, namely on the exits of Turns 19, 25 and 27.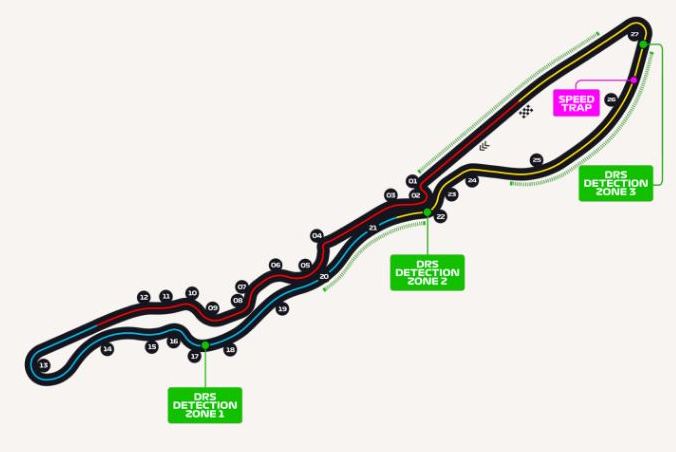 Keep up to date with all the F1 news via Facebook and Twitter