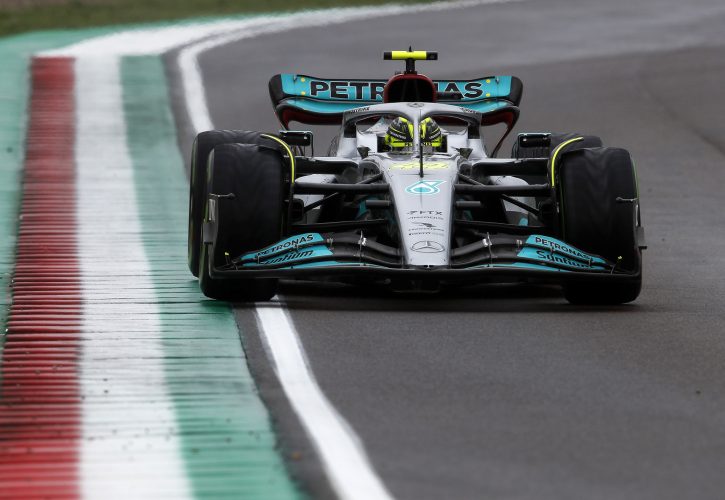 Mercedes says it has no other choice but to rely on a "trial and error" approach to solve the porpoising issues impacting its 2022 car.
Since the start of the season, the reigning world champions have struggled to get on top of the chronic vertical bouncing phenomenon, a by-product of F1's new ground-effect regulations.
While other teams have been successful in mitigating the problem, Mercedes is still searching for solutions that would allow it to run its W13 Silver Arrow closer to the ground to fully exploit the car's ground effect aerodynamics.
In Mercedes' Miami Grand Prix preview, Wolff said the Brackley squad had found "several directions" for improving its car.
However, with porpoising impossible to replicate in the wind tunnel, experimentation on the track during race weekend is the team's only recourse.
"I think we're trying to find a solution that not only fixes the bouncing," said Wolff in Miami at an event with sponsor IWC.
"You can patch up the floor and make it stiffer, but you lose downforce and at least make the car more stable, but that's not the direction we're going.
"Unfortunately, with no testing, every race weekend is a little bit of a live experiment. You can't replicate the bouncing that we see on track in the wind tunnel. And therefore, it's like in the old days, it's a little bit of trial and error, what does it actually do in real life?
"Therefore we are looking at a few directions where we believe they could help us to solve the problem long term without losing the goodness of the downforce by just lifting it up or patching the floor."
Although Mercedes hasn't implemented any major updates on its W13 in Miami, the team's engineers have delivered a few changes. But a step-up in performance is unlikely insists Wolff.
"There will be tweaks on the car this weekend where we think we can get a direction," said the Austrian. "But the performance of the car, we won't unlock it from one weekend to the other."
Keep up to date with all the F1 news via Facebook and Twitter