The FIA has cleared Aston Martin over copying concerns after investigating the similarities that exist between its AMR22 and Red Bull's RB18 ahead of this weekend's Spanish Grand Prix.
The Silverstone-based outfit rolled out its car in Barcelona with a revised sidepod design that closely resembles the component featured on Red Bull's 2022 car, to the point where the car was immediately dubbed "the Green Red Bull".
The similarities led to a swift investigation by the FIA on the basis of Article 17.3 of F1's technical rules that relate to reverse engineering and to the "potential illicit IP transfer", both of which have been tightly regulated since 2020 and Racing Point – now Aston Martin – designing a car heavily based on Mercedes' championship winning 2019 car.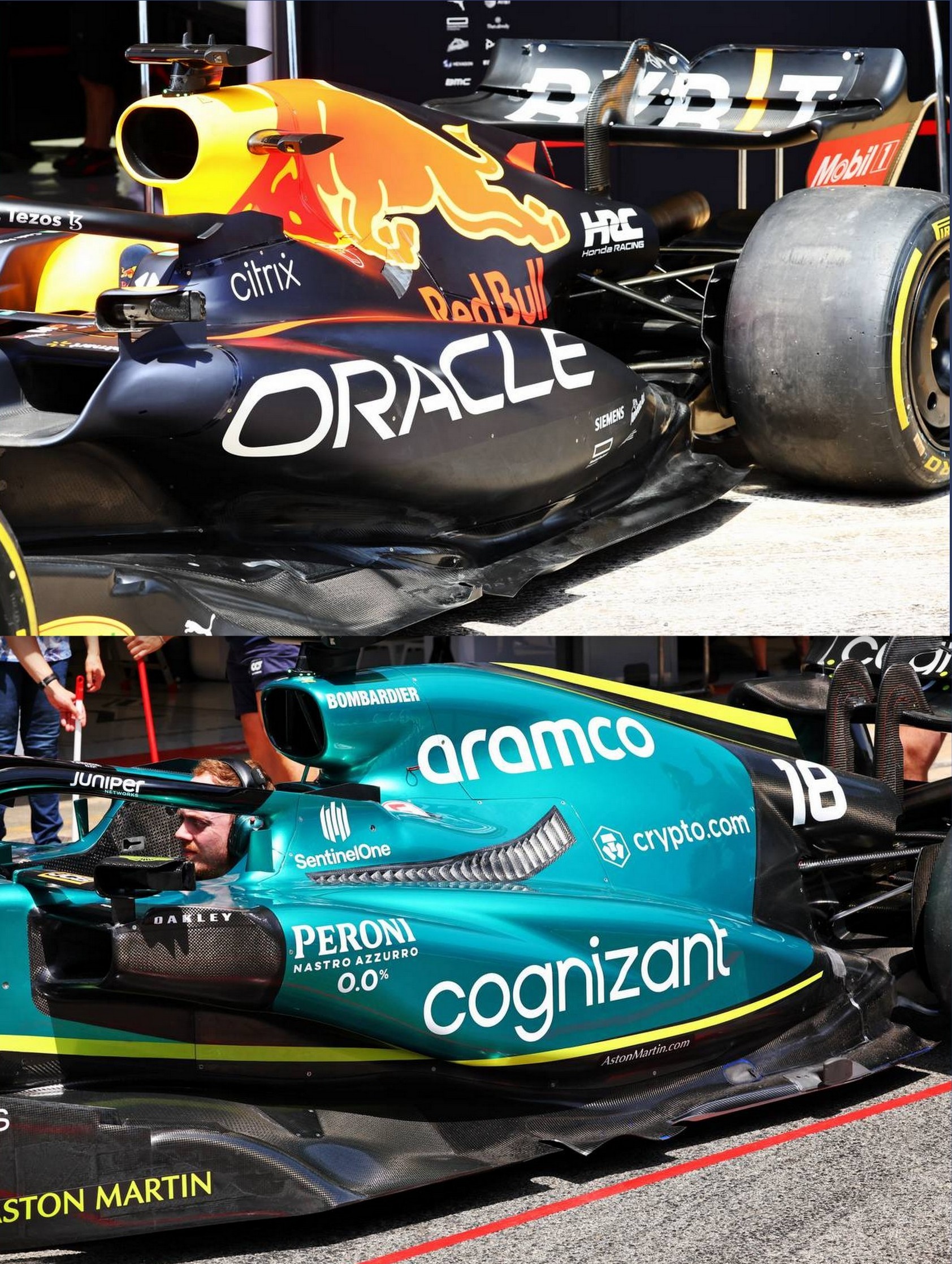 "The investigation, which involved CAD checks and a detailed analysis of the development process adopted by Aston Martin, confirmed that no wrongdoing had been committed, and therefore the FIA considers that the Aston Martin aerodynamic upgrades are compliant," read a statement from the FIA reads.
But over at Red Bull, team boss Christian Horner seemed unconvinced that the design similarities between its car and Aston martin's AMR22 were coincidental.
"Copying is the biggest form of flattery," Horner told the BBC. "It's quite a thing to instruct your team to come up with a very close-looking clone of our car."
Horner alluded to former Red Bull personnel now working for Aston Martin as a potential source of data and intellectual property that may have been transfered to Aston.
Recent transfers include Red Bull's former head of aerodynamics Dan Fallows and its former head of technical operations Andrew Alessi, although Fallows only started his tenure with Aston last month, well after the design process for the team's upgraded sidepods was finalized.
"Of course a few people have moved over the winter period," said Horner. "What you can't control is what they take in their heads.
"But obviously what would be of grave concern to us is if any IP [intellectual property] had in any way changed hands.
"So that's why we rely on the FIA to do their job, to do their research, to do the checks, they have all the access, and we'll be relying on them heavily to ensure that no Red Bull IP has found its way into that car."
Red Bull motorsport boss Helmut Marko was a lot less equivocal about Aston's design similarities. 
"It must now be clarified how this unbelievable copy came about," he told Sky Germany.
"Copying is not forbidden. But you also have to take into account that seven people were poached from us and that our chief aerodynamicist [Dan Fallows] was drawn to Aston Martin with a disproportionately high fee."
"It's not just Dan Fallows. There is evidence that data was downloaded," asserted the Austrian.
"Is it possible to copy without documentation and then manage such a detailed copy of our car?"
After F1's 'Pink Mercedes' saga in 2020, are we on the verge of some "Green Bull' drama?
Watch this space...
Keep up to date with all the F1 news via Facebook and Twitter