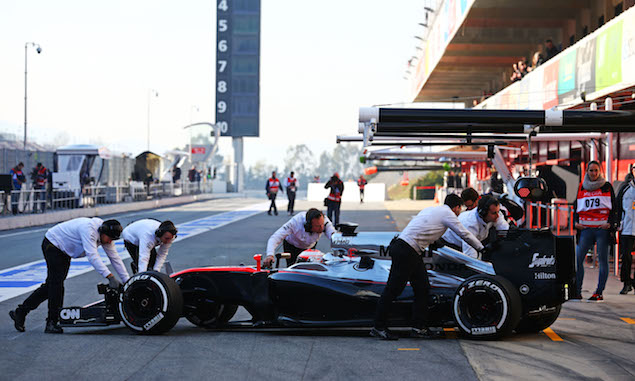 Jenson Button says he has been unable to push the McLaren MP4-30 yet following trouble-hit days for McLaren-Honda.
With just 41 laps possible across his two days at the first test at Jerez, Button's running at the second test was again hampered by reliability issues as his first day in the car resulted in just 21 laps before an MGU-K issue stopped his progress. With Fernando Alonso completing 59 laps on day two, Button was hopeful of more mileage but the problems resurfaced on Saturday.
Speaking before Sunday's running - when Button was again denied time in the car following a crash for Alonso in the morning session which left his team-mate concussed - Button said there had been progress made for the team but he still feels underprepared as a driver.
"I'd be very happy to do 59 laps, but [Saturday] wasn't my day to do 59 laps," Button said. "I haven't really driven this car in anger yet. I did one new tyre run [on Saturday] morning which was cut short and I did one on Thursday morning at ten o'clock on new tyres and that was it. So it's been a tough test for me personally but in terms of information [Friday] was good. We gained a lot of information in terms of the direction of the car and the set-up which is great.
"I wasn't able to do any timed laps because we had the problems again [on Saturday] morning so the afternoon was basically just data gathering, aero work, starts and pit stops which are things which we could do which is good. The starts worked very well, which is great to see as they were the first starts that we've done.
"So there were some positives in terms of moving forward for Melbourne but not so good for me in terms of putting laps under my belt in the car and really seeing what this car can do. I feel when I get in the car every time that everything feels right with the car but I haven't pushed this car yet."
Full times and the final day as it happened