Haas unveiled on Friday morning in Hungary its long-awaited updated VF-22 which unsurprisingly features several design changes inspired by Ferrari's F1-75.
The US outfit held off on updating its new-generation car, contrary to its rivals who introduced changes as far back as last May's Spanish Grand Prix in Barcelona.
The delay was justified by the team's desire to extract as much performance as possible from its basic car rather than follow an incremental development programme.
But Haas was also keen on making sure that its upgrades would prove impactful, although the proof will be in the pudding once the car hits the track.
And that approach hasn't worked out too badly for Haas who enjoyed double-point finishes recently in Britain and in Austria.
This weekend, Kevin Magnussen will be the sole recipient of the updates which should be implemented on Mick Schumacher's car at Spa, after F1's summer break. According to Haas's calculations, the upgrade package should be worth at least two tenths. 
Haas' choice to take its cue from Ferrari is hardly surprising given the technical partnership it enhoys with the Scuderia which is also its engine supplier.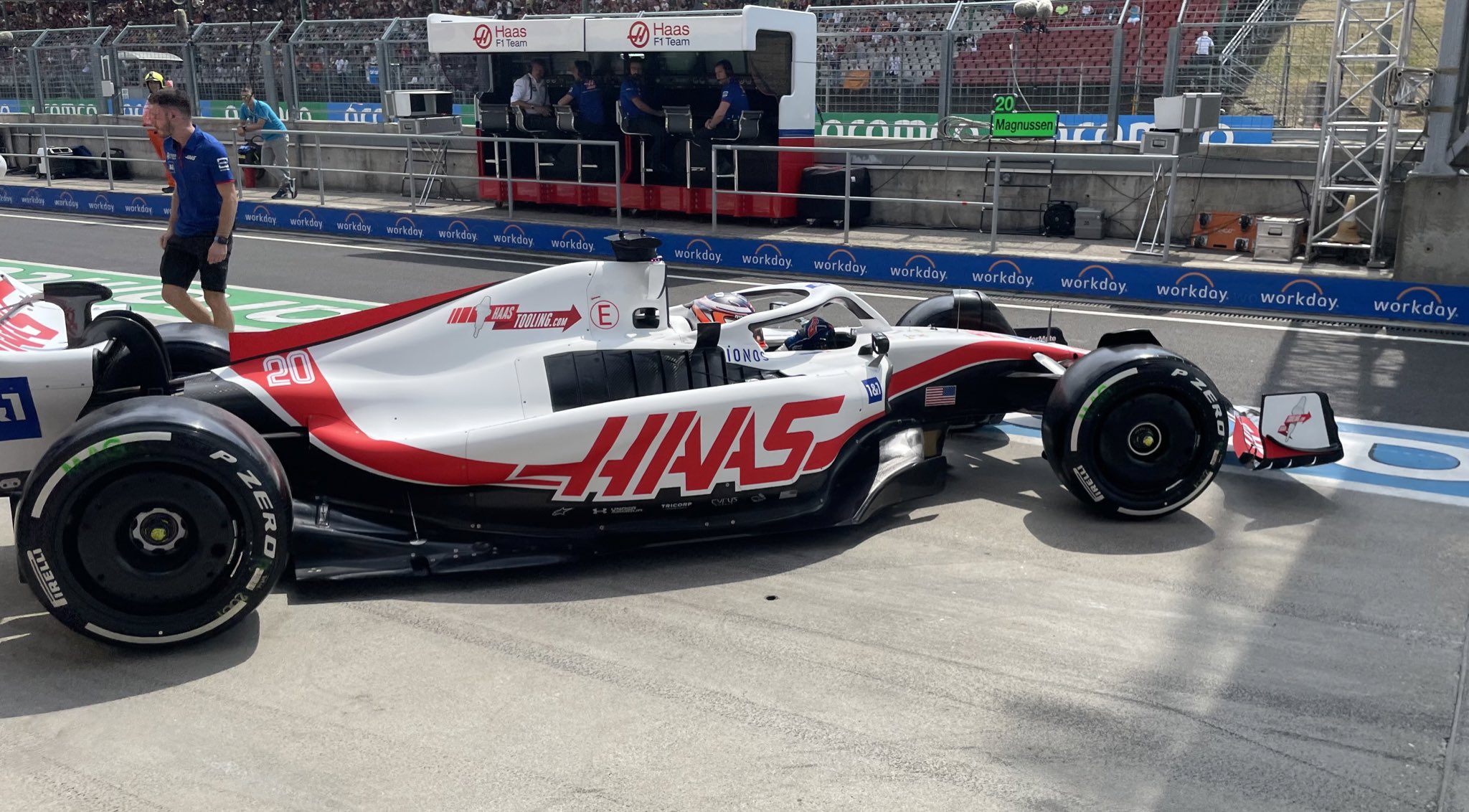 "There are three concepts out there," explained team boss Guenther Steiner. "There's the Ferrari concept, the Red Bull concept and the Mercedes concept. In whole, the three big ones.
"We are closer to the Ferrari, so obviously we're going to see what Ferrari has done and copy that one.
"But that took a little bit of time because they had to launch their car and do races and then we had to go into the wind tunnel to do testing looking at that car."
🔍#HaasF1 #HungarianGP pic.twitter.com/NRKRhdQpua

— Haas F1 Team (@HaasF1Team) July 29, 2022
The VF-22's main changes are centered around the car's floor body where the main underbody and diffuser have changed substantially in flow area evolution to optimize local load; the VF-22's floor fences which have been optimized in curvature and orientation; the floor edge which is broadly similar to Haas' existing solution but with many detailed geometric changes.
The team also revealed changes to its car's coke (sidepods) and engine cover to allow for "a greater diffusion on the top deck and smoother transition between pod front and coke sidewall".
Haas added that the evolution of form allows it "to better manage the flow incident to the downforce producing elements at the rear".
Further changes have been conducted around the VF-22's cooling louvres which are now recessed and sculpted like the Ferrari, while the car's rear suspension legs have had a complete revision of their aerodynamic fairings.
"The revision to the suspension fairings are necessary to best align to onset flows conditioned by the new bodywork upstream," said Haas. "This better conditions flow feeding the rear corner and beam wing."
Pictures will follow...
Keep up to date with all the F1 news via Facebook and Twitter