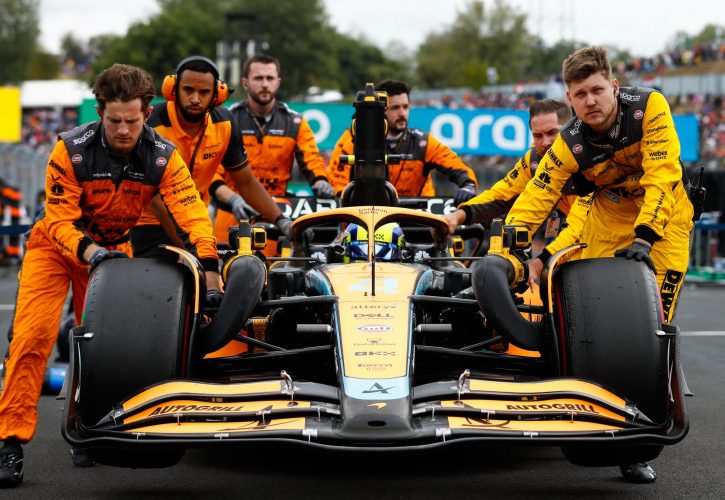 McLaren technical director James Key says the papaya squad has now optimized its MCL36 but suggested that it will need to unlock "fresh areas" of development to move its car forward in 2023 and fight with F1's front-runners.
McLaren currently sits fourth in the Constructors' standings, just four points behind its rival Alpine with the two teams locked in a battle for supremacy at the top of F1's midfield.
But two key weaknesses embedded in the papaya squad's MCL36 – a lack of straight-line speed due to drag levels and a sensitivity to high track temperatures – have led to a fluctuating, often circuit specific form.
"When we've shown strong performance, it's been real," Key told The Race last month. "It hasn't been a freak event. But equally we have weak performances as well.
"It's definitely a bit of a rollercoaster but the good things, the high points scoring we've had in Australia and Imola and Monaco and so on, it's not a fluke, it's the performance of the car shining through on those tracks.
"We need to try and get that performance to work on every track. And we've seen certain circuits that definitely play towards what appear to be weaknesses."
Key makes clear that the latter cannot be solved by set-up changes alone, with development work a more significant part of the resolution process.
While short-term ideas can be tried and tested, McLaren will need to rely on more fundamental changes embedded in its 2023 car.
"There are activities which are being looked at in detail, and have been for a while now, to see what options we've got," added Key.
"Some of them might be a 2023 car [introduction] where you're looking at, well, actually, if we did geometry slightly differently, you could have this effect.
"Some of them could be shorter-term measures. Both [car weaknesses] contain short- and long-term activities to try and improve."
Read also:
McLaren introduced a raft of upgrades at last month's French Grand Prix, and in Hungary the team further optimized its MCL36.
But to improve the car's performance to the point where McLaren can take the fight to F1's top-three next year – which is the team's legitimate ambition – Key says his engineering department will need to go beyond optimization and "start looking in fresh directions".
"We've optimized as much as we can now and it's the next step, if you could - we've got a cost cap and a time limit and other things for the next year's car to consider - is to look at fresh directions, which open up more potential to develop to," he said, quoted by GP Fans.
"We're not at that point now. On the track we're on that point now, but in terms of thinking, we were at that point a couple of months ago.
"Really, that's what we need to do. We've got to unlock fresh areas of development and we've been looking at that in detail for next year.
"Obviously, if we look closely at what the competition have done, there are two teams which are showing what's possible here, caught all the rest of us out."
Keep up to date with all the F1 news via Facebook and Twitter