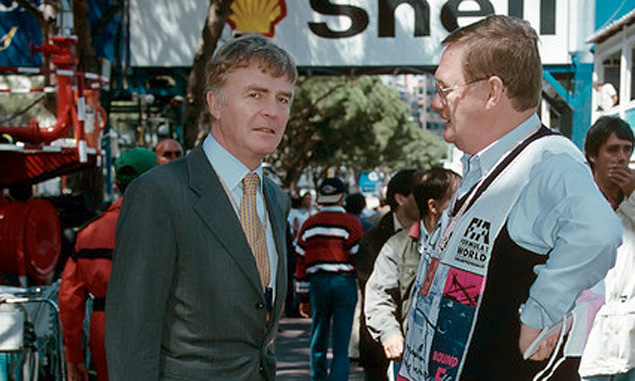 The world of Formula One was saddened to learn on Saturday that veteran journalist Alan Henry had passed away. He was 68.
One of the most respected and influential reporters covering the sport, Henry had been editor-at-large for F1 Racing and until recently was also chief Grand Prix correspondent for The Guardian newspaper until 2009.
"Alan was a correspondent of immense dedication with a profoundly deep knowledge of motorsports and Formula One in particular," said Ian Prior, head of sport at The Guardian. "As a colleague he was a pleasure: his work ethic bottomless, his reporting scrupulous and his manner a model of warmth and courtesy."
He had also been Grand Prix editor of Autocar magazine, and since 1988 had served as the chief editor of the yearly Autocourse Formula One season review books.
Henry also contributed a blog to the McLaren website, and McLaren CEO Ron Dennis posted a tribute to Henry after hearing the news.
"I have known Alan Henry for more than 40 years, and, as the decades rolled by, he and I became good friends," Dennis wrote.
"As a journalist he was knowledgeable, accurate, intrepid yet fair-minded, and as a man he was warm, kind, loyal and always funny.
"Known throughout motor racing circles as AH, which was how his Motoring News race reports were signed off in his early days, before the culture of the byline, he will be much mourned by Formula One insiders, fans and of course fellow journalists alike.
"Most of all, he will be hugely missed by his devoted wife and family, to whom on behalf of all at McLaren I extend condolences. AH RIP."
Other figures in the sport were also quick to lament Henry's passing.
"Sad to hear that Alan Henry one of the best F1 journalists has passes [sic] away," Alain Prost said in a tweet. "Top man."
"A sad day for #F1 journalism," a post on the FIA's official twitter page noted. "Legendary Alan Henry passed away. Passion, competence and great sense of humor made him unforgettable: RIP AH!
"Desperately sorry to say Alan Henry, top #F1 journo and my mucker + travelling mate of 25+ years, had passed away after illness," wrote fellow journalist Maurice Hamilton.
As well as his newspaper and magazine reporting, Henry also wrote more than 50 books about the sport, including a biography of his close friend Ronnie Peterson originally published in 1975, and a history of Ferrari Grand Prix cars in 1985.
Henry first started reporting on Formula One as a freelancer in the late 1960s before taking up a staff position at Motoring News in 1970. His autobiography of his time covering the sport entitled The Last Train from Yokkaichi was published in 2014.
"Read a lot of Alan Henry's work while growing up but perhaps my favourite is The last train to Yokkaichi," noted former F1 driver Karun Chandhok on Twitter.
F1i.com would like to add its own sincere condolences to Alan's family and his legion of friends anc colleagues. The sport as a whole has lost one of its greatest and truest friends, and one of the most entertaining and well-informed free thinkers and commentators.
FULL REPORT: Vettel ensures Ferrari ends testing on top
Keep up to date with all the F1 news via Facebook and Twitter