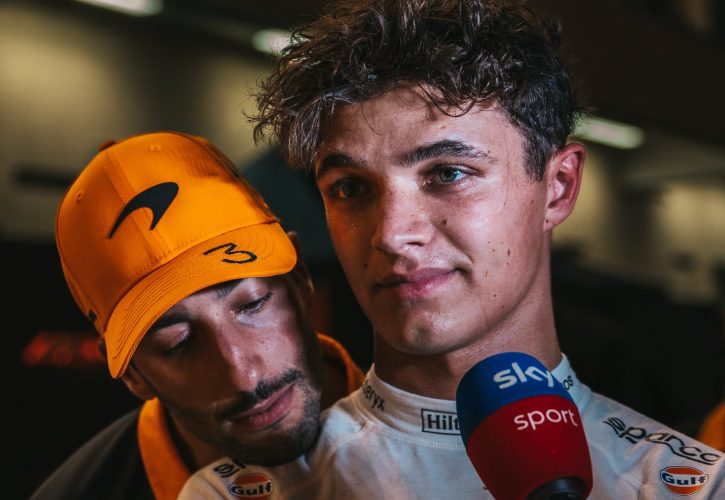 Although he declared today's qualifying session in Abu Dhabi the best that McLaren could have achieved, Lando Norris admitted that he was nonetheless disappointed to be starting the season finale from seventh place.
"Best we could have done in terms of position, ahead of everyone apart from the top three teams," he told the media in the paddock at Yas Marina after the end of the evening session under the floodlights.
"We're in a good position all together," he insisted. "So good job to the team."
But that good position belied some problems under the surface for Norris, a week on from being struck down by stomach flu in Sao Paulo.
"I haven't been the happiest in the car, have had no confidence to push on it," he explained. "So it's a bit disappointing. I feel like if I had a car I could push, I could do a bit better. But it is what it is."
Both Norris and his team mate Daniel Ricciardo failed to finish last week's race and as a result McLaren has fallen 19 points behind rivals Alpine in the constructors championship.
They're unlikely to be able to make up that deficit in tomorrow's race, although Norris is lining up ahead of both Esteban Ocon and Fernando Alonso on the grid.
Ricciardo finished qualifying in tenth which would normally mean he would be starting his last race for McLaren one place ahead of Alonso, but a three place grid penalty from Brazil will drop him to P13 tomorrow.
"Considering how my year's been, Q3s have never really been a sure thing," he pointed out. "Happy at least that with the last one here for the season and with the team, to have lasted the hour."
"I say pleased, I'm obviously not cartwheeling. But I'm happy to have got the car into Q3. I would have loved to have found that extra tenth or two in Q3.
"I think I know where it was. The lap was okay, actually, but I felt just the middle sector, I probably lost a little bit in that chicane there.
"The encouraging thing [is] we've looked like we've had pace all weekend. I think every session we've been, if not top ten, I feel like we've been to ourselves a top ten car.
"There were a few too many times this year where I was out in Q1 and watching the session from [the paddock]," he noted. "Nice to be in the car for a full hour. You can see the sweat a little more as well.
"Hopefully that means something positive for tomorrow," he said, adding that most teams had saved two sets of mediums for tomorrow's race. "One, two-stop, who knows what it's going to be? But we'll see, try to be creative
"I hope on pace we can have a good race," he replied when asked what his hopes were for his final race in Formula 1, at least for the time being.
Gallery: The beautiful wives and girlfriends of F1 drivers
Keep up to date with all the F1 news via Facebook and Twitter