Daniel Ricciardo has been talking about his ill-fated tenure at McLaren, and why it proved to be such a disappointing two seasons for him at Woking.
Ricciardo arrived at McLaren at the start of 2021 after two seasons at Renault, but from the start he struggled to match the performances of his young team mate Lando Norris.
Although he won the 2021 Italian GP with Norris just behind him in a McLaren 1-2, Ricciardo never felt comfortable in the car. He continued to flounder in 2022 when new aerodynamic rules and regulations came into effect.
With no improvement in sight, McLaren opted to buy Ricciardo out of the final year of his contract and replace him with fellow Australian driver Oscar Piastri. Ricciardo will now serve as Red Bull's third driver in 2023.
Meanwhile Ricciardo has been spending his time looking back at what went wrong at McLaren, as he explained to the official Beyond the Grid podcast this week.
"Most difficulties start on the entry [to corners]; maybe not all, but most," he suggested. "It is kind of an entry thing, but it's more just like a feel and a limitation.
"It all starts there. If you struggle with a corner on the exit, normally it's a product of what's happened through the corner that's put you in a position of, let's say, difficulty on the exit.
"I could honestly just strip it all back and just say it's confidence, because I lack that extra bit of feel with the car to put it on the very limit and to know what I'm going to get.
"There were very few laps this year unfortunately where I crossed the line and [thought], 'That was a good lap!'" he added.
This year saw new regulations brought in, but Ricciardo said that they hadn't significantly changed the fundamental nature of the McLaren.
"The cars certainly behaved a bit differently, but I would say the DNA of the car is still the same. Where I would struggle, it was ultimately the same thing."
The team brought in a large number of upgrades to the front and rear wings, as well as suspension, floor, sidepods, engine cover and diffuser at the Spanish Grand Prix, but if anything this just made things harder for Ricciardo.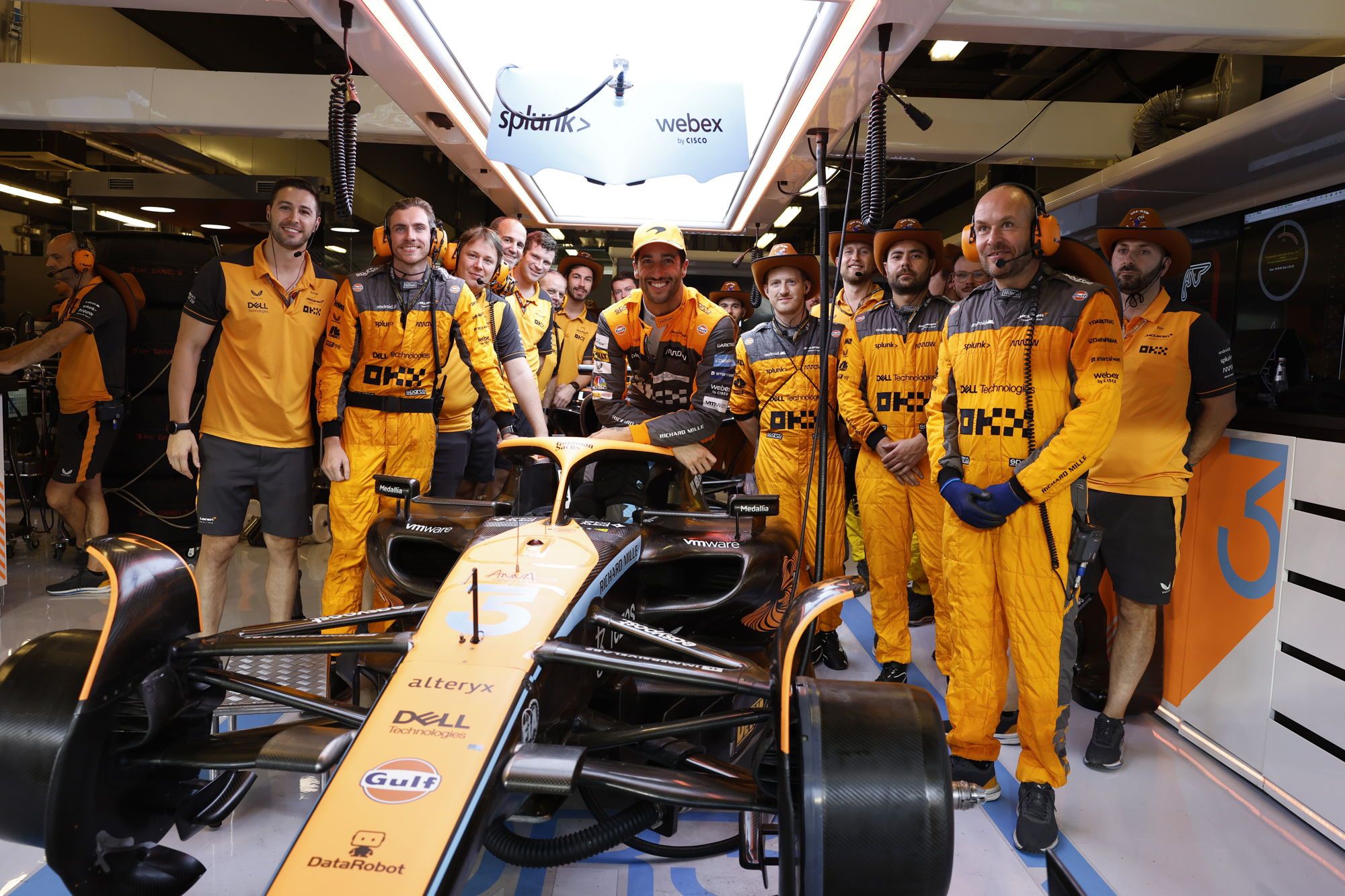 "We brought updates around Barcelona and it was then that I started to struggle a bit more. I don't know if that was a coincidence, but the gap [to Lando] started to increase again.
"Up until then I felt like I was always within a tenth or two of Lando, and we were kind of going a bit more nip and tuck. That's where it started to separate again."
Ricciardo pointed out that in his first race with McLaren in Bahrain, he'd out-qualified Norris - only to fall behind in the race.
"That was when I was still fairly 'green' with the car, if you know what I mean," he told podcast host Tom Clarkson. "I kind of wonder, did we just get lost along the way?
"Did I then start to try too hard? Did we try to engineer it too hard, and get away from, let's say, my strengths and then try to drive the car a certain way?
"Maybe [it was in a way that was] a weakness for me, and something that I couldn't really grasp. I don't know, it's an interesting one.
"On both ends we struggled, in terms of the team trying to understand what it was and how to then update it and improve it.
"But from my side I'm also like, 'Okay I'm not perfect. Sure I've got some weaknesses, this car happens to expose a few of them.' But let's say I still didn't find a way to gel at one with this car often enough."
Gallery: The beautiful wives and girlfriends of F1 drivers
Keep up to date with all the F1 news via Facebook and Twitter